Colin Jones of Cage the Gods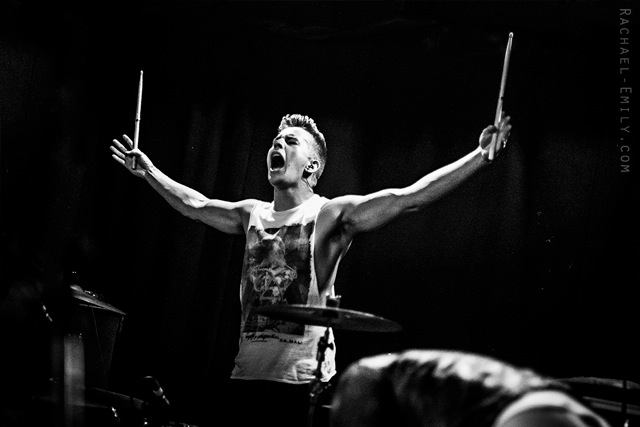 Colin Jones here. I'm the drummer for the British rock band Cage the Gods. I started messing about on the school drumkit at the age of twelve, when I was playing guitar for the school band. Whenever the drummer would leave the room, I would jump on the stool and play until he physically pushed me off; I think he was just jealous that I could stay in time better than him and I'd never played before!
I began my drumming as a left-handed drummer until a drum teacher said to me, "In the future, if you ever come to playing gigs or shows and share someone else's kit, being right-handed won't piss anyone off!" So, within a couple of weeks I'd transformed into a right-handed drummer and have played that way ever since. However, even after years of playing this way, I can still occasionally be found leading with the other hand and foot.
My parents brought me up on the good stuff—Pantera, Extreme, Metallica, and AC/DC (who were also my first concerts at the age of ten and eleven). At fourteen I started drumming in a band for the first time with three long-haired, twice-my-age metal heads! From then on, I knew that drums were my thing. Advertisement
I've been touring the world since I was fifteen, as everything but a drummer, and despite being on awesome tours such as Halestorm, British Lion, and playing the 02 with Iron Maiden, it's amazing to finally be drumming, where I belong!
My drumming influences are very prog-orientated, such as Neil Peart and Gavin Harrison. I'm also a huge fan of Adam Gray of Texas in July. I've been influenced a great deal by drummers I've toured with, such as Oli of Zico Chain. His style and playing personality are captivating, and he's taught me to really involve the crowd. Likewise, while touring with Halestorm, I would make it my mission to have everything packed away in time to watch the whole set; Arejay Hale's showman skills are exceptional!
My Cage the Gods journey began when I was asked to come down for a rehearsal by bassist Mitch, who I'd known for a few years. After a second rehearsal, the guys asked if I would play a sold-out show supporting U.S. rockers Filter in London. It's safe to say, I got the job after that! Advertisement
I'm a huge fan of Natal drums. I know that every band says that their drumkit captured the sound they wanted, but when I turned up to a rehearsal with a Natal kit, the band had never heard of the company before and were amazed at how great it sounded. I use Remo pinstripe heads on the 12″, 14″, and 16″ toms, an Evans Reverse Power Dot on the snare, and an Evans bass head. Imperial cymbals are my choice of metal. I like big crashes—18″ and 19″—with 14″ hi-hats and a nice big crash-ride. I use Baskey for my cases, rugs, and lug locks; they're a genius company who deserve to be checked out.
Thanks to Modern Drummer for letting me write this blog and give you an insight into how I got to where I am now. Cage the Gods will be in the U.S. in early 2014, supporting our current EP, Favourite Sin.
For more on Colin Jones and Cage the Gods, go to cagethegods.com.