MD Contributor Stephen Bidwell on Fun Fun Fun Fest in Austin, Texas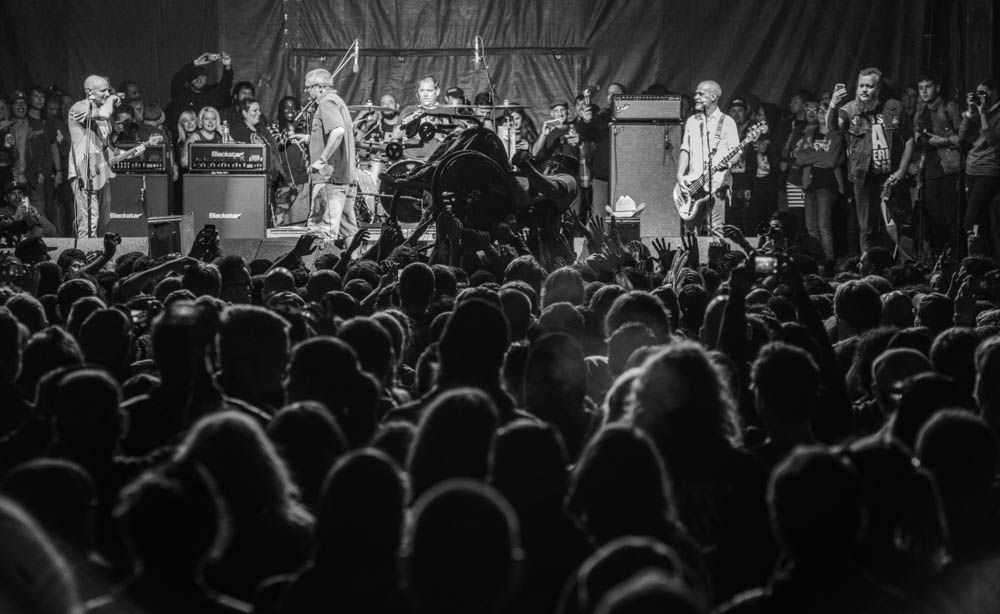 While we have a different festival of some kind nearly every other week here in Austin, Texas, one seems to set itself apart for some of us, and that's Fun Fun Fun Fest. Fun Fun Fun Fest had its eighth go-round this past November 8–10, and it was three days of great music for fans of metal, indie, hardcore, electro, and hip-hop, as well as wrestling, comedy, skateboarding, and BMX. I made the hang with a few of my favorite drummers on the bill and thought I would pass along what they were up to.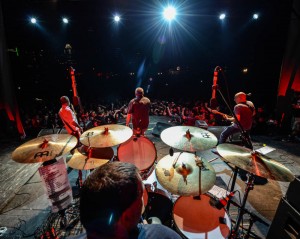 Before the festival started, I met up with Bill Stevenson for tacos and coffee. While in Austin, Bill was not only doing double-duty playing festival sets with Flag (ex-members of Black Flag playing Black Flag songs) and Descendents, but he was also doing pre-production work with Rise Against and rehearsing with early LA punks the Last. Since relocating to Colorado and opening his studio, the Blasting Room, Stevenson has been an in-demand producer and engineer. His very economical playing technique seems to be based in conserving energy as well as getting great drum sounds. "When I was younger I had some bigger arm motions, maybe to get girls, but I've learned I can be more accurate if I'm not wasting motion," says Bill. "And you can get a proper tone out of a drum with a more precise motion. Drummers that flail around might get more extra cymbal sound in the room mics, so I've gotten to a point where if you put me in a room with a set of drums I can get a good sound with reasonable relative volumes."
Engineering and producing records since his Black Flag days, Stevenson found himself behind the console often and usually out of frustration with the sound of some releases he had played on. "Some of what I thought of as failures from a recording standpoint prompted me to learn more about engineering so I could prevent my own records from sounding crummy," he recalls. "It wasn't a choice; it just kind of found me. We only really built the Blasting Room so we could record All and Descendents, but it grew organically and bands asked me to record them."
The fact that Bill is still doing his thing so prolifically is a huge relief considering a few short years ago he had a brain tumor that brought on weight gain, a pulmonary embolism, diabetes, and sleep apnea. Bill seems to be out of the woods health-wise and as busy as ever, and watching him with both Flag and Descendents was evidence of how much fun drumming can be.
After catching some early acts on Saturday, I sat down with Larry Herweg of Pelican. Aside from discussing some of his influences, most notably being recently reunited post-hardcore band Quicksand, we talked about how Pelican tightened up the expansive style of their early recordings into something more concise and easier to pull off live. "After The Fire in our Throats Will Beckon the Thaw, the songs were long and drawn out, and became not fun to tour on," said Larry. "We shortened songs and tried to make them hookier to grab the listener quicker and to make them more enjoyable to play live. More importantly, we wanted to keep it interesting for ourselves and not write the same album again."
We also talked about Larry being singled out in some pretty harsh press from the City of Echoes album, and how he spun it into something positive. "That was pretty brutal, but [the writer] did raise some good points," he says. "A lot of those songs were full takes and not to a click, just like a live show, and there was some push and pull. I did start practicing to a click track. I used to hate it, but now we're totally friends." The band sounded tight on a set of mostly new songs from this year's Forever Becoming, with Larry behind a Kent Bonham-style setup with appropriate Paiste 2002s.
Janet Weiss's band of twenty years, Quasi, had the daunting task of playing right after Tenacious D on Saturday. With a resumé including several albums with Sleater-Kinney, Stephen Malkmus, Bright Eyes, and a recent drummer-only recording with Zach Hill and Matt Cameron, Weiss is visibly comfortable performing after anyone. Since going on tour with an LA band called the Furies about a week after her first drum lesson (the second gig of said tour was opening for a young Flaming Lips), she's kept busy with the drums for over twenty years. How does she stay in-demand in musician-rich Portland? "As drummers, we don't like down time; I want to play all the time," says Weiss. "I've met a lot of people through my community, as I've been in Portland since 1989. I'm also not a liability. I'm easy to get along with, and I own a van. As a drummer, you have to make yourself valuable in more ways than just being a drummer because there are a lot of us. If you think you're indispensable, you're terribly wrong."
When asked about the recent all-drummer record she made with Matt Cameron and Zach Hill, Weiss explains, "Drumgasm was just a fun idea. The three of us admire each other as players and people, and it was a what-would-happen-if moment. No planning, no thought, just set up three drumkits in a room, and go. I think the idea of not holding back is an important one, and a lot of folks maybe aren't into people running around screaming with their heads flying off of their bodies. But that's kind of what that record was." Catch Janet and her favorite vintage Ludwigs on tour with Quasi if you can.
More than a few bands from the New York hardcore scene of the '80s and '90s have had successful reunion shows in recent years, and FFFFest snagged Judge, with Sammy Siegler on drums. If you don't know Siegler from this band, you might know him from Youth of Today, Gorilla Biscuits, Side by Side, CIV, Glassjaw, an EP with Limp Bizkit, or Rival Schools. Sam comes from a family of drummers. "My dad came up in the jazz world, and my grandfather was a big band drummer," he says. "I love punk and hardcore but to be exposed to jazz, bossa nova, and Afro-Cuban music was also really cool. My dad would come to see me play and give me shit if I was dragging, and hardcore is all about pushing the beat and playing on top, sitting on the edge of your seat, and leaning your whole body forward."
Sam made his first record around age fourteen. "Records are really cool because they document your life," he says. "I can go back and say 'I played this way in the '80s and this way in the '90s,' or 'I still play that fill.' It's nice to have that documented." Siegler's been rocking a GMS drumset since his days in CIV, and while he generally tolerates most backline kits, he prefers his own set of K and A Custom Zildjians. Sam still drives Judge with ease like a teenager, displaying perhaps the best hand technique I saw all weekend. He will be juggling family life in California and European dates with Rival Schools for the rest of 2013.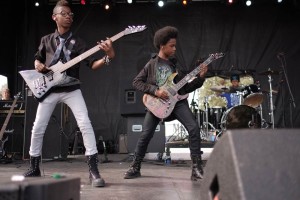 Saturday night, as I was walking to the black stage to check out Bill Stevenson (again!) with the Descendents, I ran into the coolest band of eleven-year-olds: Brooklyn's Unlocking the Truth. Their drummer, Jarad Dawkins, has been playing since age two and works in a lot of rudiments around the kit. Unlocking the Truth sounds heavy well beyond their years, and Jarad cited some of his favorites as Metallica, Slayer, Disturbed, August Burns Red, Megadeth, Pierce the Veil, and Betraying the Martyrs.
Dismemberment Plan drummer Joe Easley's current day gig is as a robotics engineer for NASA, and being that he and I are both from Northern Virginia, we couldn't help but discuss the influence that the DC hardcore scene has had on our playing. "Zach Barocas, who used to play in Jawbox, was an animal—just the most precise player, and he does really cool stuff," says Joe. "We played some tours with them early on, and he had a big impact on what I do. Mike Russell from Shudder to Think was also great. Brenden Canty from Fugazi was weird and loose and I don't understand how he plays, but he is a sick drummer." Easley has been playing the same Yamaha Maple Custom kit since the '90s and is particular enough about his setup that he packs cymbal stands in his luggage, even for fly-out dates like this. "I actually have measurements of my cymbal stand heights," he says. "It's nice having all the right felts so I know the action of everything, but it's also a bit of a good luck thing." The recently reunited Dismemberment Plan sounded great on new songs and had the crowd singing along to fan favorites like "You Are Invited." It was definitely a highlight of the main stage on Sunday.
Getting to see the current incarnation of the Cro-Mags on Sunday was another big deal for me. After I watched him destroy a set of hardcore classics, I talked to original drummer Mackie (Maxwell Jayson) about his musical roots and what he's been up to. When asked for a singular moment that got him into drumming, Mackie recalled seeing Buddy Rich on a Schaefer Music Festival concert in Central Park and eventually attended the New York High School of Performing Arts. Punk rock was admittedly not his thing until he became friends with the Bad Brains. "I used to hate punk rock," says Mackie. "I hated the Cro-Mags, and I was in the band! But I get it now like I get AC/DC. It might not be technical, but it's just dope! Me and the guys in the Bad Brains…We liked all of this jazz stuff and R&B. They were telling me that punk rock was dope, and I was like 'Well, it must be!' If Miles Davis heard the Bad Brains, I bet you he would've liked them." Fittingly, Cro-Mags played two Bad Brains songs in their set. (Mackie played on their albums Quickness and Rise.) Life has taken the drummer all over the place, from jingle work in NYC to spending many years based in London with the Fun Lovin' Criminals. He has a new fusion project with Dr. Know and Daryl Jenifer from Bad Brains, as well as another project with Chino Moreno from the Deftones and some spring dates in Europe with the Cro-Mags.
Last but not least, I bumped into my friend John Speice IV, who you may know from the Grammy-winning Grupo Fantasma or their funky alter ago Brownout. Speice was backing up Daniel Johnston at the festival and a week prior he played with the Wu Tang Clan's GZA. "In both cases, the music is very simple from a drumming perspective," says Speice. "But you're working with two people that were so important to their genre. When we played behind GZA, there were people with tattoos of the full artwork from Liquid Swords who knew every word of the record, and it's kind of the same thing with indie rockers and Daniel Johnston, where every lyric means something to someone."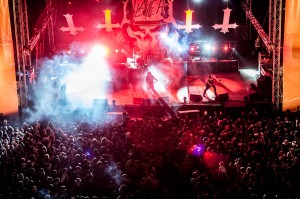 Here come some stray observations from the festival. First, I got my metal fix from Gojira and August Burns Red, both new to me and awesome in completely different ways. I never thought I would hear any of Television's Marquee Moon live, but I heard most of it. I never thought I'd see Ice-T and Body Count in the same day again, but twenty-two years after seeing them for the first time, there they were. A late-starting Johnny Marr show made for a short Walkmen set. Quicksand killed it, right before Flag, who also killed it. Tenacious D, Melt Banana, and Sparks all came to the fest without a drummer, but were still mostly awesome. Slayer, with Paul Bostaph on drums, was in top form and is still the best thrash band in the world. Snoop Dog, Big Freedia, Jurassic 5…I'm barely scratching the surface of this thing.
For more info on Fun Fun Fun Fest, visit www.funfunfunfest.com