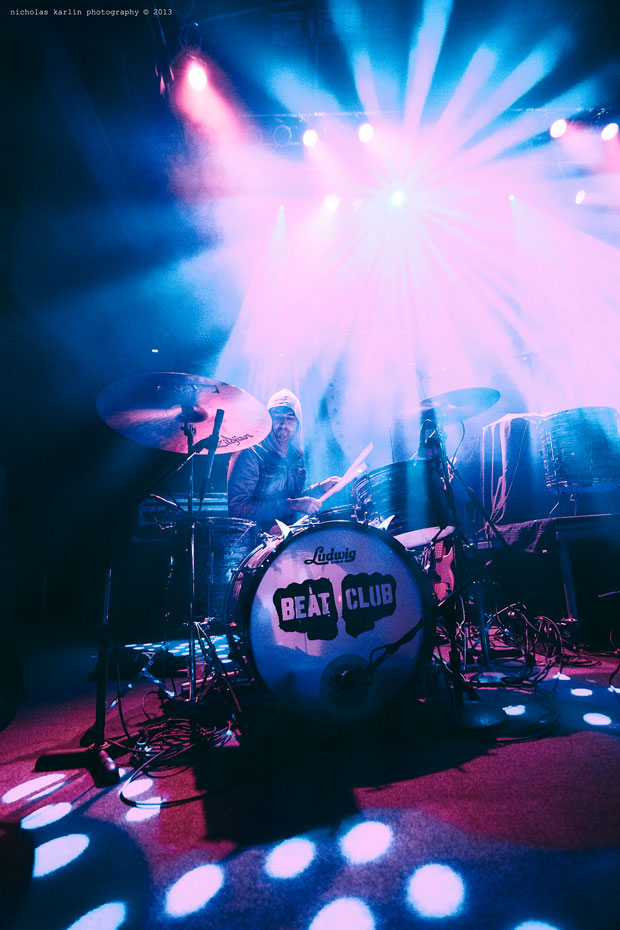 What's up everybody? Joe Seiders here. I play drums for the Los Angeles–band Beat Club. We're super stoked to have been able to tour supporting Fitz and the Tantrums and Capital Cities. I'm writing this blog from a dressing room in Ames, Iowa. Touring has a strange but rad way of putting you in little towns and cities that you would never imagine you'd visit. I dig it.
Speaking of little towns, I grew up in Derry, New Hampshire. Having a musical father, we always had a piano upstairs and a beautiful 1960s Rogers kit down in the basement. I can still remember sitting on his lap and playing Deep Purple's "Smoke On the Water." I can't say that I was influenced by any particular drummer besides him. Although I encourage everyone to take lessons, I think it was beneficial for me to develop my own feel and style without any influences besides the records I was playing along to throughout my childhood.
These days, since moving to Los Angeles, I've become a vintage drum lover. I have a particular fondness for Ludwig Club Dates and own a few '60s kits, as well as their beautiful reissued Club Date set. As far as snare drums go, I alternate between my Ludwig metals (Black Beauty, Supraphonic, and Acrolite). My live cymbal setup is pretty streamlined, with Zildjian Constantinople hi-hats, a K Dark crash, and a Constantinople ride that I bash on throughout the set.
Ok, enough gear talk. This Beat Club tour has been incredible. Being the opening act on a big tour is always an exciting challenge. Every night, we're up there trying to set the tone for the show and get the crowd moving. I go into every show with a sort of underdog mentality, and when I look out and see people grooving along with us it's super rewarding. We're a relatively new band and have been given a great opportunity to join these two incredibly gracious bands, and we owe it to them to put on a great show every night.
As soon as we get back to LA, we'll be heading right into the studio to create our first EP. Writing and recording with Beat Club is a truly collaborative process and particularly exciting for me considering the band is pretty rhythm-oriented. As a drummer, sometimes it can feel difficult to contribute to the songwriting process, but with this group ideas can spawn from bass lines, guitar riffs, or even drum beats. I'll also keep a small synth keyboard next to the kit during sessions in case I'm feeling melodic.
As bummed as I am to see this tour end, I'm also psyched to get back and get some new music out to you guys. Looking forward to it!
For more on the Beat Club, visit www.beatclubband.com and Facebook.com/beatclubband.
Photo credit: Nicholas Karlin Photography