EVENT – Celebrating the Life & Music of Legendary Drummer Chico Hamilton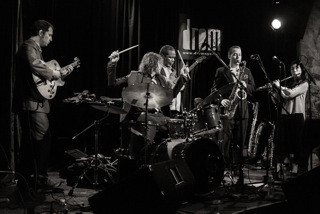 EUPHORIA Presents Celebrating the Life & Music of Foreststorn "Chico" Hamilton, featuring Chico's longstanding Euphoria ensemble with Paul Ramsey (bass), Evan Schwam (flute + reeds), Jeremy Carlstedt (drums + percussion), Mayu Saeki (flute) & Nick Demopolous (guitar).
Chico Hamilton passed away of natural causes on November 25, 2013. Saluted by the Kennedy Center as a "Living Jazz Legend", and appointed to the President's Council on the Arts, Chico was considered one of the most important living jazz artists and composers.
In an effort to honor and celebrate his life and his music, his long-time working group Euphoria continues his legacy with a special, joyous concert at DROM this Sunday night.
Known for fashioning finely textured sounds with small ensembles, the program includes some new original material off of Chico's forthcoming album (Release Date 2014) as well as works off of Chico's latest vivacious albums: Revelation and Euphoric (Joyous Shout!). Advertisement
WHEN: Sunday, December 15 @ 7:15PM
WHERE: DROM, 85 Avenue A (b/w 5th & 6th St), New York City; Train F to 2nd Avenue
HOW:  $15/Advance $12.  To reserve, call DROM at 212.777.1157 or visit: www.dromNYC.com.

Photo by Glen DiCrocco.