Jerry Gaskill of King's X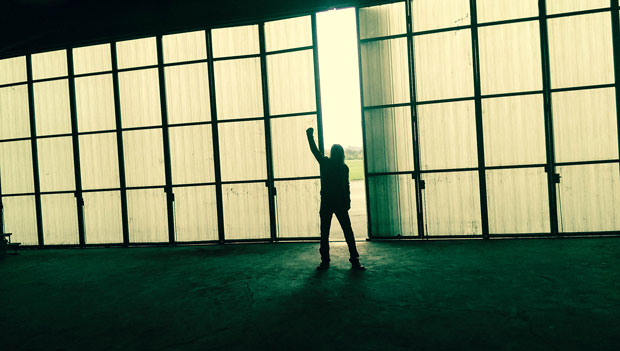 Hey, Modern Drummer readers. It's been a while. 2013 continues to be the light at the end of the tunnel year for me. 2013 also had me doing my first full King's X shows since I died. [Editor's note: Jerry suffered a serious heart attack on February 25, 2012 and had to undergo emergency surgery.]
In my last blog, I left off when I was about to continue working on my second solo record by flying to Nashville to do drums at Michael Wagener's WireWorld studio and then to Underdog Studios, owned by D. A. KarKos, to do whatever else. That has now been accomplished!
My first show with King's X this year was at the Stone Pony in Asbury Park, NJ, which is twenty minutes from where I live. It couldn't have been a better way for me to realize that I really can do this. After the show, my wife just looked at me and simply said, "That was incredible!" I felt like crying. I could see the sincerity in her face. I was ready to go now. Advertisement
Next, we were off to play the M3 Festival in Maryland. It turned into another great day. I saw old friends and met new ones. I got to meet a band that has now become one of my favorites. I didn't really know much about them at the time. It wasn't until I came home that I discovered what they really do. I fell in love. That band is Steel Panther.
The next night we played NYC. Again, it was another great night for me.
The next weekend was in Texas. We were to play Dallas, San Antonio (with Yngwie Malmsteen), and Houston. We had to cancel the San Antonio show, but we did do Dallas and Houston. Again, these were like hometown shows for me. One of the highlights of that weekend was having my son's band Recovery Room open for us in Houston. Check them out.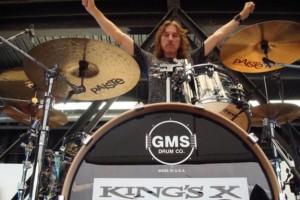 Then we were off to do one more weekend in the Detroit and Chicago area. GMS was kind enough to make a new kit for this tour. I think it's my favorite kit I've ever had. They have a beautiful blue wood-grain finish, and they sound and feel incredible. (Thanks GMS!) I also fell in love with the new Evans Level 360 EC2 for the top heads and the Level 360 EC Reso on the bottoms. Something about those heads made the kit complete. (Thanks Evans!) Advertisement
We have another run coming up in November in Atlanta, Charlotte, NC, and Springfield, VA. I'm looking forward to playing with the guys again. We will start off 2014 with the Progressive Nation Cruise February 18–22.
Now let's get back to my record. Needless to say, I am very excited about this and am taking my time because I want it to be right. I've had two very special guests so far who have given more than I could have hoped for to help make this record what I envision it being. First, there is Phil Keaggy. I met Phil at the very end of 1979 and became a member of his touring band for a good part of 1980, along with Dug Pinnick. It was through this small group of people at that time that I met Dug and eventually Ty. We formed a band together, and the rest is….
So let's get back to Phil. As I was sitting there watching Phil so happily laying down some guitar genius for my record, in my mind I was saying, "I think Phil is the best guitar player in the world!" Now I know that's something that can't really be determined, but I felt it so strongly that I have to say it. (Thanks, Phil!) Advertisement
We recorded at Earl Slick's place, and he laid down some incredible stuff too. Neither Phil nor Earl had heard anything before we got there. I just felt that these two guys needed to be in on the songs. Earl did a lead on one song, and I felt like crying. (I feel like crying a lot, huh?) It sounded like a multi-platinum lead from a multi-platinum David Bowie record. And I'm thinking, This isn't some guy trying to sound like the guy who does multi-platinum David Bowie stuff; this IS that guy!
I can't wait for this record to be ready for everyone to hear. As devastating as 2012 was at times, I kind of feel like the Phoenix rising from the ashes. I have a wife, I have a house, and I have two dogs. I'm a lucky man. Little did I know I had to die to be where I'm at, but I wouldn't change a thing. Life goes on and you never know what's lurking around the corner.
Read Gaskill's previous blog entry at here.
For more on Jerry Gaskill, visit www.jerrygaskill.com.