Jermaine Butler of Moon Honey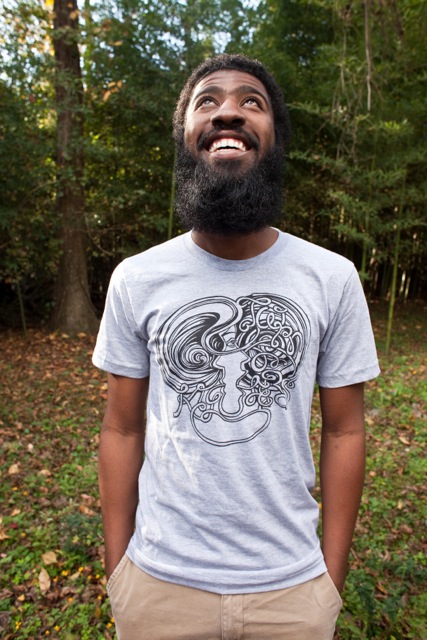 Before I go any further, I want to thank Modern Drummer for letting me write this. Getting the call earlier this week to see if I wanted to do this was the most insane thing.
For those that don't know me, my name is Jermaine Butler and I play drums in Moon Honey, a sort of psychedelic rock band that's taking a shower in all sorts of other musical genres. We've recently finished our debut album, Hand-Painted Dream Photographs, which will be released on December 3.
One of the reasons that it's so crazy that I'm even writing this is that most of the drummers on here have been playing their entire lives, while I've only been at it for around six years now. Don't let my newness to this world scare you away, though, I promise I have so much to offer!
What I lack in seniority and chops, I make up for in creativity. I started as a bassist when I was younger, and only recently moved on to drums when there was no one else to fill the void. I'd like to say that my bass playing has influenced my drumming style, but I really just don't see it. At the core, I'm your average John Bonham lover, but my love for African and Near Eastern drumming has been a growing influence on me in recent years. Whether it be a three-second fill taken from Iraqi Choubi music or entire songs crafted from Moroccan Gnawa ryhthms, you can find it all on this album. Advertisement
The recording process has spanned the course of the last three years, and has at times been the most joyous aspect of my life and at others, the most depressing, nerve-racking experience ever. I'm sure that any drummer that has worked on a personal project that they hold dear to themselves can relate. In the end, though, I know that we've created something entirely our own to offer to the history of music. In my opinion if you're not saying anything, then why even talk?
The band has been blessed with the aid of Greg Saunier (drummer of Deerhoof) mixing the album. I can honestly say that my drums wouldn't sound as great as they do without his help. He really captured a classic drum sound that I feel is missing on a lot of modern records. I remember getting back some of the mixes and being so hyped on how big some of the kicks sounded. I really can't stress enough how thankful I am that Greg put so much time and energy into this record and really brought out so many hidden sounds that I didn't even know existed in our music.
We embark on a month-long West Coast tour in support of the new album on November 20, so everyone come check us out. Thanks again, MD!
For more on Jermaine Butler and Moon Honey, go to vimeo.com or watch the video below.
Moon Honey – Self-Portrait Beneath Woman's Mask from Moon Honey on Vimeo.