Rosie Slater of New Myths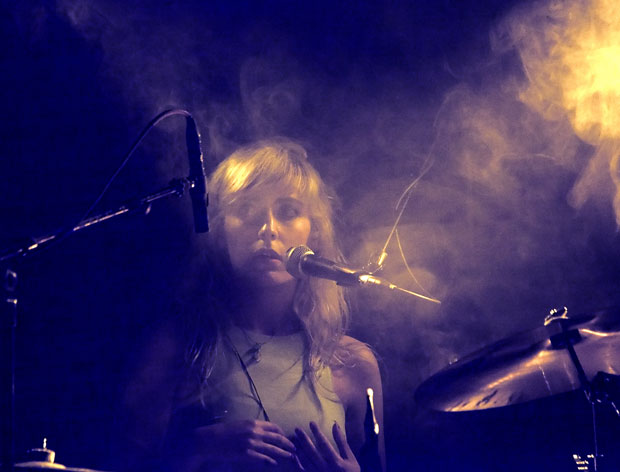 Hi, Modern Drummer readers! I'm Rosie Slater from New York City. I started playing the drums when I was nine years old and have been playing with 2011 Rock and Roll Hall of Fame inductee Darlene Love, New Myths, Supercute!, Lesley Gore, and others. Growing up in a house full of studio musicians, I've been surrounded by music my entire life, and there's nothing better!
My two all-time drum heroes are Dave Grohl and Max Roach—they play the song. It's always about what is best for the song, and that is something to take into every situation. I'm a total process geek and love being in the studio. In high school, my band recorded an EP with Omar Hakim as producer. Tracking drums with Omar was amazing and a great lesson in choosing what is right for the song.
For the past three years I've been the percussionist with Darlene Love. Working with Darlene has been fantastic. Most recently, I had the opportunity to play percussion in the house band (with Liberty DeVitto on drums) for the 2013 Little Kids Rock Right to Rock benefit concert. The show featured Steven Van Zandt, Brian Wilson, Elvis Costello, and Bill Medley, with Darlene Love leading the show. My setup included timpani, congas, bongos, and loads of hand percussion. Everything needed to recreate the "wall of sound." I've always wanted to cover the Beach Boys' song "God Only Knows," so getting to play that song with Brian Wilson was a dream come true. Getting to play behind such iconic voices was just incredible. I'm still floored by the whole thing.
Right now, I'm also working on finishing an album with my own band, New Myths. We are an all-girl electronic power trio. When it comes down to the music, we love exploring different textures and instruments. We love danceable grooves and ghostly vocals, combined with raging guitars and glossy electronics. Our sound has been described as "new wave Cranberries in a haunted brownstone."
Since releasing our EP in March of 2012, we've had the pleasure of playing music festivals like Pop Montreal and CMJ, as well as some great NYC venues. Our track "False Gold" was featured in Surf Company Reef's spring 2013 girls' digital ad campaign and was featured as (the late) Lou Reed's pick on his Sirius XM radio station "Lou Reed's New York Shuffle with Hal Willner."
On the upcoming record, the drums were tracked at the Carriage House Studio in Stamford, Connecticut, where the owner has a huge collection of vintage drums. For the bulk of the album, I used my Craviotto maple snare and Pearl Steve Ferrone snare, vintage Zildjian Quick Beat hi-hats, a vintage Paiste 505 18″ crash, and a Sabian Fierce ride. I could not be more excited to release this album. It has been a blast working on it.
To check out the music video for "False Gold," watch below or visit vimeo.com/58399640. To check out the New Myths EP, visit newmyths.bandcamp.com.