Pilot of Louna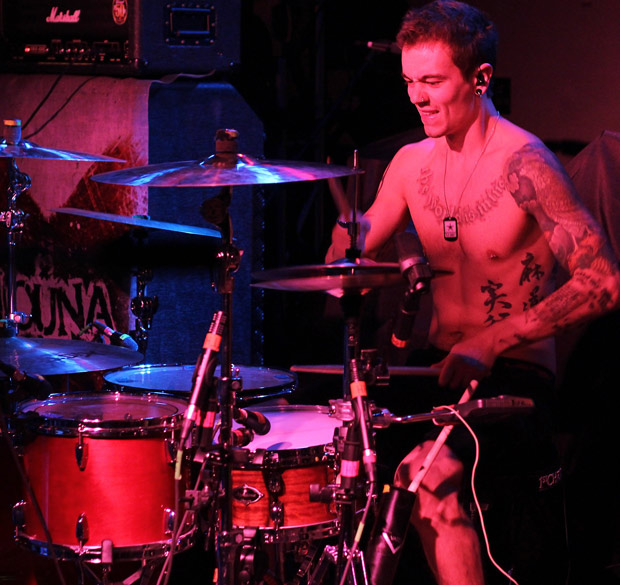 Hey, everybody! I'm Leonid "Pilot" Kinzbursky. I'm twenty-four years old, and I'm the drummer for Louna. Louna just finished its first big tour in America with the Pretty Reckless and Heaven's Basement.
So right now I'll tell you a little about myself, as I'm riding in the tour bus. I started playing drums when I was fifteen. Originally I started out as a singer, but then my voice changed, like all guys' voices change at that age, and so the group I was in in school asked me to move to another position in the band.
I decided on my own to start playing drums. I wanted to be somewhere where the constantly pulsing beat inside me could be put to use. I used to always get kicked out of class for beating my hands against the tables whenever I would think about the rhythms from my favorite songs. Advertisement
I didn't want to try to learn everything on my own, so I studied drums in school. After three years of studying music I decided that anything else I wanted to learn I could do on my own, and I dropped out of music school.
In the beginning I didn't really have any plans to be a professional musician, I just studied and practiced because I wanted to. I maybe played with five or eight different groups ranging from R&B to emo-core. I never really practiced more than an hour a day, if you even call what I did practicing.
The people I have always admired and who I have considered my idols have always been the drummers who were not just innovative, but put something personal and interesting into their artistry. People, of course, like Travis Barker (who doesn't look up to Travis Barker, really), John Bonham, Lars Ulrich, Dave Grohl, Steve Gadd, and Tommy Lee. Advertisement
I started taking my drumming more seriously when I joined Louna. With them I understood that we can grab the world by the balls. And since then I practice every day for two to six hours and follow the mantra that it's better to practice a little bit every day than to practice a lot occasionally.
We released our first English-language album, Behind a Mask, last April, and our first tour was interesting. I played on a Yamaha Stage Custom kit that we auctioned off in Washington, D.C., after the show because we had no room in our van to take it with us. Our third Russian-language album is just now done with the mastering, and we'll be releasing it some time in the next few months. It's the first Russian-language album we've released where the mixing and mastering was done in the U.S., and the results are pretty crazy.
For more on Pilot, go to lounarocks.com.  Pilot endorses Istanbul Agop cymbals, Wincent drumsticks, Sennheiser, and Roland. Photo courtesy P A Music News.