La Voz's Jason Gianni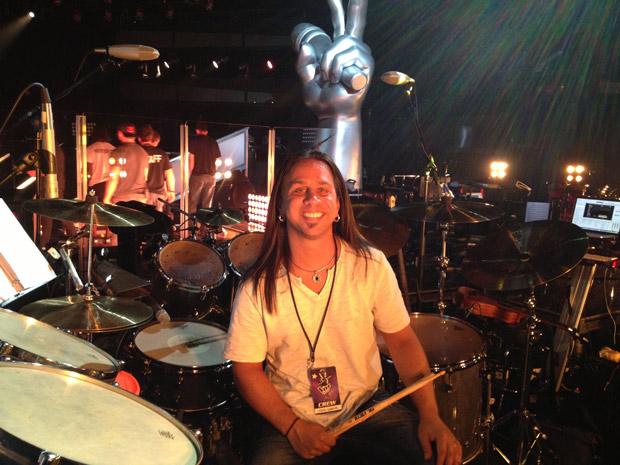 I never thought I was a very good juggler. Even as an athletic kid and a budding musician, I never really achieved the timing and flow of how a series of balls or prop items can be thrown in the air and manipulated in such perfectly conformed movements. Oddly enough, years later, I found myself as a professional drummer dealing with the art of juggling, metaphorically, every day of my life.
This year was perhaps the most challenging, yet incredibly gratifying, test to see how I could make various rewarding opportunities work in an already vigorous schedule.
I'm very honored to continue to hold a full-time position at Drummers Collective in NYC. However, when performance circumstances arise, it becomes a challenge to accept those opportunities while still remaining attentive to normal day-to-day responsibilities.
In March of 2013, I received a call in which I had to make a very quick decision to commit to over four months of work in Miami as the house-band drummer for a new TV show. The show, entitled La Voz, is the Hispanic version of the immensely popular primetime show, The Voice, and was an opportunity that I just could not pass up. Despite having to chart out close to 200 songs throughout the show's run, dealing with fifteen-hour repetitive work days, and having limited time in between for trips home to recharge my batteries, the show was an enormous ratings hit for the Telemundo TV network and is an experience I will thankfully continue to enjoy next season. Besides performing with and befriending countless talented young contestants on the show, my experiences performing with popular artists Ricky Martin, Jessie Y Joy, as well as judges Paulina Rubio, Prince Royce, and Roberto Tapia, provided numerous unforgettable moments. Advertisement
In addition, over a year ago, I was given the opportunity to audition for progressive rock artist, Neal Morse, who was putting together a new American-based band. Since leaving Spock's Beard (a band in which he singularly formed), and taking an extended break from his progressive rock super group, Transatlantic, Neal had been working with the great Mike Portnoy on a regular basis. However, due to Mike's overly demanding schedule, the position called for a drummer who can step in when he's unable to perform. I was incredibly pleased to be offered the position after a demanding yet fun audition process.
Subbing for Mike Portnoy is no easy task. One must keep in mind that it's another drummer's gig, and taking liberties to make it your own may not be the best path. Thankfully, I was familiar with most of Mike's material already, but sitting down to absorb every single part was a different scenario. In the end, I felt it was best to transcribe all of the parts note-for-note, memorize as much as possible, and then see what sticks when it gets to the live setting. Gigging with Neal has been an outrageous experience, taking me to shows throughout the Midwest as well as Finland and Italy, with more to come.
As an added bonus earlier this year, I was also given the opportunity to be an active sub on the popular NYC Broadway show, Rock of Ages, sitting in for drummer Jon Weber. Subbing on a Broadway show calls for a consistent playing approach as to not disrupt the flow of the musicians or actors who are used to the regular drummer. A good amount of time and effort was required to learn the parts close to verbatim. It has been an incredible experience playing Rock of Ages, as the music is exciting, the show is phenomenal, and the musicians are the best in the business. Advertisement
Each year, I've come to realize that longevity in the music business comes down to one thing—trust. I needed to trust great teachers to step in for me for classes and lessons at the Collective while I regularly checked in with them about the progress of all students. I needed to trust the new musical situations and hope that each opportunity would be a step in the right direction for my career. And I needed the people involved in all of these situations to trust me to not only perform well but to return with as much devotion, excitement, and loyalty as when I first took on the responsibilities.