Jay Postones of TesseracT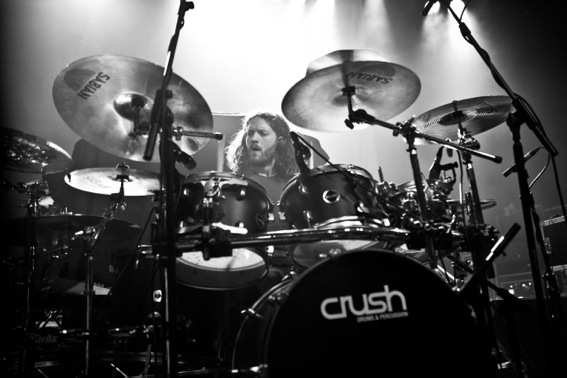 So I'm currently sitting in our BandWagon at the largest truck stop in the world—Iowa 80. Today is a good day as it's the first day of the tour that we've been able to wash our laundry, and believe me, as a touring musician this is a very good day.
TesseracT is on tour with Katatonia, Cult of Luna, and Intronaut, and tomorrow will be show number ten, at the Summit in Denver. This is a relatively short run of shows, as it only covers about two weeks but we're heading straight out on a headlining tour of the U.S., Canada, and Mexico next week with Scale the Summit and Ancients. This is the start of a huge world tour for TesseracT, which has already taken us to Russia, Belarus, and Ukraine. We're still to visit the rest of Europe, India, the U.K., and finally Australia on this tour. Epic.
I thought it would be cool to keep this blog up to date with some of the most common questions I get asked while on tour. I've had the chance to hang out with quite a few fans this time around, and they nearly always ask the same question: "How do you play that stuff"? There are multiple answers to this question, as it's not just one thing which enables any musician to remember and perform their parts, it's a combination of: years of practice, drive, stubbornness, and most importantly, repetition. That is the key to learning anything which sounds complex and eventually will bring you to a point where your music grooves naturally. Listen until something is no longer complex and instead, you're able to recall the tiniest detail just in your mind. Advertisement
Every musician has a core set of skills and abilities that they're really comfortable playing. These are the things that come to you naturally when you're in an improv situation. You're able to instantly call upon the bank of techniques that you've committed to muscle memory, and jam. For the most part, this is all I do for about 99% of the TesseracT live show.
The cool thing is there's always so much more to learn if you want to learn it. There are guys out there with insane skills, guys who can recall some of the most ridiculous chops which even to most pro drummers seem impossible. (Check out Matt Garstka from Animals as Leaders as a perfect example of this.) I'm in a very privileged position because I'm almost constantly surrounded by guys with ideas and chops which my brain just wouldn't naturally go to. This is where a lot of inspiration is born for me, as it's an immediate window into someone else's world—someone who has done things differently to you and has a completely different musical vocabulary. It also keeps me on my toes as a player to be surrounded by awesome drummers, as it's very easy to get comfortable in a zone of relative competence.
So with that in mind, I'm going to stop typing and go work on some weird new stuff. Hope to see you out at one of the shows!
Peace
For more on Jay Postones and TesseracT, go to tesseractband.co.uk, where you can watch the video for the track "Nocturne," from the album Altered State; or see a previous drummer blog from Jay Postones here.
Advertisement