Jason Hartless of Pistol Day Parade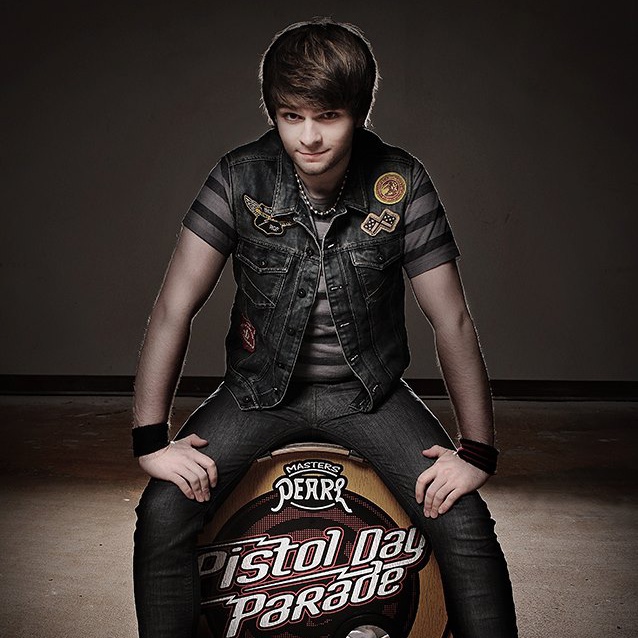 Hello again! It has been a couple years since I wrote my last blog for Modern Drummer. I really appreciate this opportunity to do another one.
The last time I wrote, I had just finished up on a Mötley Crüe tour and was getting ready to start high school. This past June 2013, I graduated and was accepted to Berklee School of Music in Boston. During high school, I took some time off from touring so I could hunker down and better myself as a drummer by being on the marching band's snare line and by working with my private instructor George Dunn on a regular basis.
During a NAMM show in Anaheim, I was introduced to one of my all-time favorite drummers, Todd Sucherman, by Mike Farriss of Pearl Drums. Todd and I are both part of the Pearl family, and we hit it off from the start. Over the past year or so, Todd has been gracious enough to mentor me. The best part is that he is not shy about a truthful and honest critique of the solos I am performing, just as Corky Laing has been doing for me since I was eight years old. This just makes me a better and more conscious player. Again, having mentors like Todd and Corky makes me realize how lucky of a drummer I am and makes me work at it that much harder.
Going back to April of 2012, my instructional DVD, Learn to Rock Drums With Jason Hartless and Friends, a product of Drumfun distributed by Hal Leonard, hit the shelves in Guitar Centers, Best Buy, and music stores nationwide. It features me along with some great drummers, such as Corky Laing and Steve Kilgallon. To support the DVD's release, I performed a slew of drum clinics for Guitar Center and also for some assorted independent music stores. We were pleasantly surprised by the turn out. There are plans in the works for me to do more clinics in the cities that I will be visiting while out on tour with my current band, Pistol Day Parade. Advertisement
The year 2012 was busy, considering I was not touring with a band. I was called in to perform with Brian Schram (ex-Uncle Kracker) at the CenturyLink Center Arena in Shreveport, Louisiana. I was asked to play at the Bassmaster Classic, which is known as the Super Bowl of fishing. This gig was one of the most unusual gigs I had ever done. It was odd for me playing in front of 14,000 diehard fishing fans playing songs about a fish. It was a unique and fun experience that I will never forget.
In the summer of 2012, I attended the Berklee College of Music Percussion Festival on a full-tuition scholarship. Since I was eight years old, I have always wanted to go the Berklee, and during my time there I fell in love with the school. I got the opportunity to sit in on some great clinics and classes and was able to study with percussion education legend Kim Plainfield, associate professor at Berklee and faculty head at Drummers Collective in New York City. After leaving Berklee, I came home a different drummer and had no doubt in my mind that that is where I wanted to go to college.
In January 2013, I got a call to join an up-and-coming band out of Detroit named Pistol Day Parade. The band had some success when its song "Rockstar's Girlfriend" hit number thirty-eight on the active charts on Billboard. In February, Pistol Day Parade signed to Goomba Music and is now managed by Rick Smith (Volbeat) and Dana Haddad from Wildjustice Management. Advertisement
In March of 2013, Pistol Day Parade hit the studio to finish its debut national release, Burn. We joined forces with Chuck Alkazian (Elton John, 50 Cent, Christina Aguilera, and Dave Matthews Band) and Tim Patalan (Sponge, Cheap Trick, Taproot) to produce and engineer the record at the renowned Pearl Sound and the Loft studios. Currently the record's first single is in heavy rotation on active rock stations and doing very well in record sales. We are heading out on tour to support the release this coming October. Look for us when we come through your city, and stop in and say hello.
Here is a video to the making of the new Pistol Day Parade record:

Cheers, and thanks for all the support!
For more on Jason Hartless and Pistol Day Parade, visit www.jasonhartless.com, and www.pistoldayparade.com.