Drummer Set to Break Guinness World Record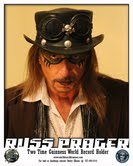 Two-time Guinness world-record holder for marathon drumming, Russ Prager, will make a third attempt this Wednesday, September 25. The event will take place at Quaker Steak and Lube in Clearwater, FL at 7 pm. The entire event will continue in excess of 123 hours.
Prager's first world record was accomplished in May 2003, for fifty-eight hours (three days), and then broken in 2009 at 120 hours (five days). On January 1, 2013, Kunto Hartono of Indonesia beat Russ's record with 122 hours and twenty-five minutes.
In the process of earning two Guinness world records, Prager has raised tens of thousands of dollars for many organizations, such as Easter Seals. This time he will be raising money for the American Red Cross and the Internet Broadcasting Network, which provides free Internet, radio, and TV shows to non-profit organizations. Advertisement
The event is going to kick off with Prager performing four sets with his band, Black Sun. He will then attempt to beat Andrew WK's record of drumming for twenty-four hours in a retail store. With only a short break, Prager then starts on the marathon drumming record, which will require him to continue for more than 125 hours.
Sponsors Include Quaker Steak and Lube, Talk Wad Studios, Talk Wad Radio, Internet Broadcasting Organization, Krazyduck Entertainment, Tampa's Mayhem magazine, Russ and Russ Designs, and Moombahcore.com.
The event will be streamed live on www.russpragermarathondrummer.weebly.com and www.worldrecorddrummer.com.