Will Hunt of Soil and Device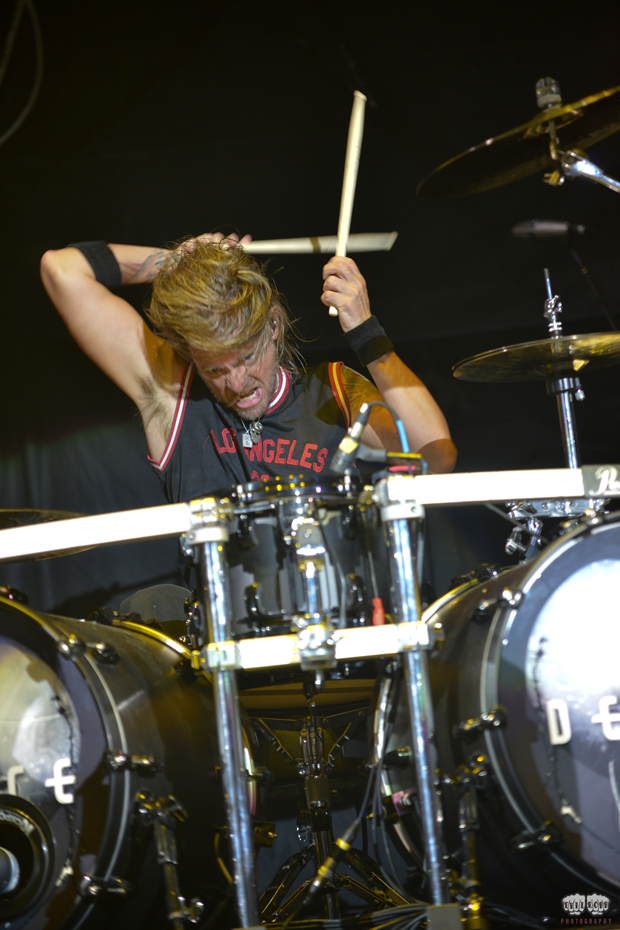 What's happening guys and gals? Will Hunt here. I'm excited to be writing a blog for Modern Drummer, as I grew up with this magazine (my subscription was always a stocking stuffer for me when I was a kid), and have always been a fan.
I wanted to share a bit of what's been happening with me as of late. 2010 found me recording We All Bleed with Crossfade and Order of the Black with my buds in Black Label Society. I also got the opportunity to tour with BLS for a bit before getting back in the studio with Evanescence in early 2011. Getting to play with your favorite guitar player does not suck!
2011 and 2013 were spent doing the Evanescence album and a very extensive world tour, which was awesome. Some highlights from those years include scoring the first number-one album of my career, playing in Norway at the Nobel Peace Prize ceremony, playing in crazy cool places like Beirut, Lebanon, selling out Wembley Arena in London, and spending a week in Morocco. (My wife was able to come on this excursion, which was really cool.) Advertisement
Near the end of the summer EV tour, I was talking to my good bud from Soil, Tim King. Tim and I have known each other for years, and on a side note, he has been the A&R guy and a big part of the last two Dark New Day releases, 2011's New Tradition and 2013's Hail Mary. Tim mentioned that Soil was going to be making a new record, that original singer Ryan McCombs would be back in the vocal seat, and that they didn't know who was going to play drums on the album. I said, "I know a dude—me!" The guys in the band liked the idea, and a plan was made. We started on the trek of making the new Soil album, Whole, which dropped August 20, 2013.
Timing wise, it worked out perfectly, because the EV tour would be finished, and my new band, Device (featuring David Draiman from Disturbed) wouldn't have started our album cycle yet. To sweeten the pot even more, my old friend Ulrich Wilde would be on the producing, engineering, and mixing duties. Ulrich did my old band Skrape's debut album, New Killer America. I loved working with Ulrich then and was excited to get an opportunity to do it again. We decided to make some noise, and make some noise we did!
The process started with Tim sending me some demos via email of tunes for the album with very rough programmed drums. The guys told me to do what I do and make it mine. I met the guys in LA at Ulrich's studio, and we went to work. I played the guys my beat and fill ideas for the tunes and gave them tons of stuff to choose from. They chose what they liked, and off we went. The recording went very smooth, was a lot of fun, and was pretty much what you would want to be a part of when making some jams with your friends. Once I was done tracking, I went into rehearsals for Device's first tour and started that while waiting to hear some mixes from Ulrich. Needless to say, I was blown away. The songs turned out killer, and Ulrich's mix of my drums is ginormous. Advertisement
I used a Pearl Reference kit (pretty much my go-to kit in the studio) with a 24″ kick with a Remo Powerstroke 3 batter, 12″, 16″, and 18″ toms with Clear Emperor batters and Clear Ambassador bottoms. I used a 6.5×14 wood Reference snare with an Emperor X batter. The Reference snare has so many tonal sweet spots it's crazy. It's why I was able to use it on the whole album. You need this drum in your arsenal if you're a serious drummer—it is sick.
Cymbal wise, I used all Zildjian Z3s on the album: 14″ Rock hats, 18″ and 19″ Medium-Thin crashes, a 19″ Thrash ride (great for washing on), an 18″ China, and a 21″ Mega-Bell ride. I get compliments from engineers all the time about the Z3s. They're very musical and tonally perfect for rock.
Some stand out tunes for me on the Soil album are the first single, "Shine On," "Loaded Gun" (an ode to some Vinnie Paul–style ride bell juiciness), "Ugly" (tasty opening fill, sick riff, and an example of the thunderous drum sound), and "Wake Up" (crazy intro and some blazing fills). The whole album kicks ass, but these are some of my faves. Advertisement
The guys will be out supporting the album, so go see them. Device finished our first tour. Our album debuted at number eleven on the Billboard Top 200, our first single, "Vilify," sat at number one on the Active Rock chart for two weeks, and at number-two for an additional two weeks. We did Gigantour with Megadeth, BLS, Hellyeah, Newsted, and Death Division until August 12, and head out for a short run with Halestorm and then are off to Europe with Avenged Sevenfold and Five Finger Death Punch—and we're just getting started!
I get asked a lot about the future of Evanescence, and here's what I can tell you. I'd like to think we will get back together at some point and do another album and tour. I miss those guys and gal; they're my friends, and we make great music together. Right now, I'm very much enjoying my time in Device. We are a band in the truest sense, and we will be doing another album and tour at some point—it's not just a one-off. Will there be an Evanescence album and/or tour before that happens? I don't know. I'm just taking it one day at a time.
So, pick up a copy of the new self-titled Device album, the new Soil album, Whole, and the new Dark New Day album, Hail Mary, and come see Device. (You're going to want to see and hear my custom Pearl Masterworks kit with some E-PRO drums integrated—it's ridonkulous!) And Soil is on tour at a venue near you. I'll see you on tour, as it's where I live. Advertisement
For more with Will, visit his Facebook page at here.
Photo by Robb Duchemin