Vinny Appice to Conduct Free Drum Clinic and Performance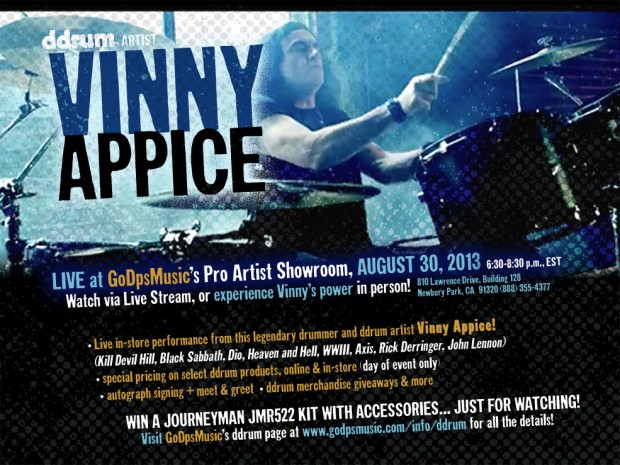 Presented by GoDpsMusic Live and ddrum, Vinny Appice will perform at the GoDpsMusic pro artist showroom Friday, August 30 from 6:30 pm to 8:30 pm PST. GoDpsMusic is located at 810 Lawrence Drive, Ste. 128, Newbury Park, CA 91320.
Highlights include an exclusive live performance, ddrum drumset giveaway, artist signing and meet and greet, a free live stream where fans can watch and interact online, and additional giveaways. Reserve free in-store seating at http://www.godpsmusic.com/info/ddrum or watch the entire event streaming live at here.
Vinny Appice has powered the rhythm of bands such as Black Sabbath, Dio, Heaven and Hell, Ozzy Osbourne, WWIII, Axis, Rick Derringer, and Kill Devil Hill. He has been drumming across the world for over two decades and has co-written songs on over twenty-five records. He is also the author of the instructional book Rock Steady and DVD Hard Rock Drumming Techniques. Advertisement
Appice's drumming can be heard on numerous movie soundtracks including Wayne's World 2, Heavy Metal, Iron Eagle, Bedazzled, Bad Teacher, and recently, Sound City with Dave Grohl.
Vinny's new band, Kill Devil Hill, released its first album last year and have been playing shows in the US and Europe, including six shows opening for Alice Cooper.
For more information, visit http://www.godpsmusic.com/info/ddrum or phone 888-355-4377.