The Goo Goo Dolls' Mike Malinin Discusses <em>Magnetic</em> <br>Track by Track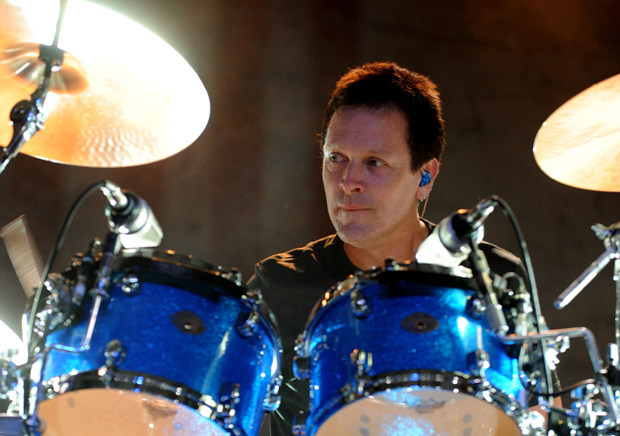 by Billy Amendola
For Mike Malinin and his bandmates in the Goo Goo Dolls—bassist Robby Takac and singer/guitarist John Rzeznik—having their tenth album, Magnetic, debut at number eight on Billboard's Top 200 chart shouldn't come as a surprise. The Grammy-nominated trio from Buffalo, New York, has sold more than ten million albums worldwide and scored fourteen top-ten radio hits, more than any other artist in the history of the Hot AC format. To support their latest album, which was recorded in New York, London, and L.A. with producers Gregg Wattenberg (Train), Rob Cavallo (Green Day), John Shanks (Bon Jovi), and Greg Wells (Katy Perry), the Goo Goo Dolls are co-headlining a tour with Matchbox Twenty. For this Modern Drummer Web Exclusive interview, Malinin checked in from the road to share his impressions of each track from Magnetic.
"Rebel Beat"
The song starts with a drum machine loop that continues through the verses, with an alternate loop in the choruses. So my part was dictated by the loops. I tried to find a part that would work well without clashing. This caused the drum part to be a bit sparse. The loop generally dictates what is going on, except in the second verse, where the drums sort of take over. It was fun weaving in and out of the loops.
"When the World Breaks Your Heart"
The drum program that Johnny had on the original demo inspired my part. I played sort of an odd, jumpy snare pattern against straight 8th notes on the kick drum. I wanted this to keep the track moving well. And in the last chorus I play a straight ska beat, which somehow works. Advertisement
"Slow It Down"
Sort of like on "Rebel Beat," there were some drum loops that I had to work around. I approached this song with a simple, straightforward feel. Sometimes that works the best. And the drum fill in the break is kind of an homage to the fill in "Slide," which was kind of funny.
"Caught in the Storm"
That's a straight-up rock beat—essentially four on the floor with snares on 2 and 4. The accents in the latter half of the second verse were a cool addition. And in the breakdown I just tried to keep a groove going on the toms.
"Come to Me"
This was the most interesting song for me to record. We cranked the mic on the snare drum and I played a pattern with brushes as softly as I possibly could. I liked the feel we were getting that way. Then I went back and recorded snare hits and kick drum, with shaker at the top. It was a fun experiment, and I think it's one of the best songs on the album. Advertisement
"Bringing On the Light"
Robby recorded a demo of this track with friends of his in Buffalo. So there was already a drum track on the demo when I first heard it. I followed that sketch and just tried to make it my own.
"More of You"
It's funny how this one happened. I was just dropping by the studio one day to see what everybody was up to, not planning on tracking anything. But then John Shanks, who produced this track, sent me into the recording room. I thought I was demoing something for a new idea. Nope. That ended up being the drum track on the song. I was only in the room for about four or five minutes!
"BulletproofAngel"
I messed around with some vintage drums that were lying around the studio and ended up finding a great old wood snare that was really dry sounding. So I tuned it as low as I could and tried to play a relaxed, almost lazy groove. It seemed to fit the vibe. Advertisement
"Last Hot Night"
This song went through six or seven different versions. We recorded the first several years ago. Johnny was never happy with it, so we kept making slight changes until we ended up with the present version.
"Happiest of Days"
This was quite a bit different from most of the songs that Robby brings in. I just wanted to keep it simple and fun. I was thinking about some older indie bands like Beat Happening when I was playing this. I think it came out cool.
"Keep the Car Running"
Another one of my favorites. It's really straight ahead, and I played upbeats on the snare in the choruses, instead of on 4. I just tried to follow the music and make the drum part musical, which is pretty much how I approach most Goo Goo Dolls songs. I love playing this one live. Advertisement
For more on Mike Malinin and the Goo Goo Dolls, go to googoodolls.com,  facebook.com,  or twitter.com. To pick up a copy of the August 2002 issue of Modern Drummer, which features Malinin's cover story, go here.

Photo by Bob Mussell.