Product Close-Up: Turkish Rhythm and Soul Series Cymbals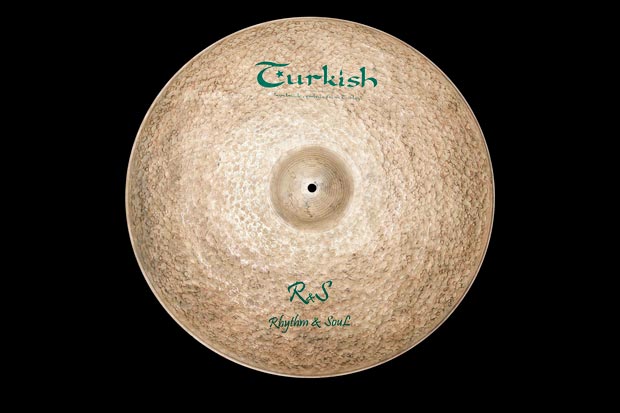 October 2013
Product Close-Up
Turkish
Rhythm and Soul Series Cymbals
by Kyle Andrews
Turkish is a company based in Istanbul that makes all of its cymbals from scratch. It begins with a proprietary bronze formula and casts each cymbal blank in house. On its website Turkish proudly boasts, "There are no factory seconds. If a cymbal bears our logo, it has attained perfection." Up for review this month are the company's Rhythm and Soul series cymbals. We were sent a pair of 14″ hi-hats, 16″ and 18″ crashes, and 20″ and 22″ rides.
The unique finish of the Rhythm and Soul (R&S) line is the result of a quick acid bath and very light lathing. This gives the cymbals a bright, but not brilliant, color and leaves behind the pits of the hammer marks for a slightly raw appearance. The entire surface of the cymbal is hammered, save the bell, which is sparsely lathed on top and totally unlathed underneath. These models sport a low-profile bell and a fairly shallow bow, which contributes to their strong stick definition and dry wash. They are in the medium-light range and have a decent amount of flex. The hi-hats have a slightly steeper bell and a more dramatic bow, which gives them a somewhat brighter character, and they're proportionally heavier and less flexible than the rides and crashes.
For more on the Turkish Rhythm and Soul series cymbals, check out the complete review in the October 2013 issue of Modern Drummer.
Turkish Rhythm and Soul Series Cymbals (click to listen or save)