October 2013 Issue of <em>Modern Drummer</em> Featuring Mike Portnoy
(on newsstands September 3, 2013)
On the Cover
Mike Portnoy
In his first MD cover story since leaving Dream Theater, the prog-metal icon talks about the infamous split—but makes clear how much he's digging the bounty of new opportunities coming his way.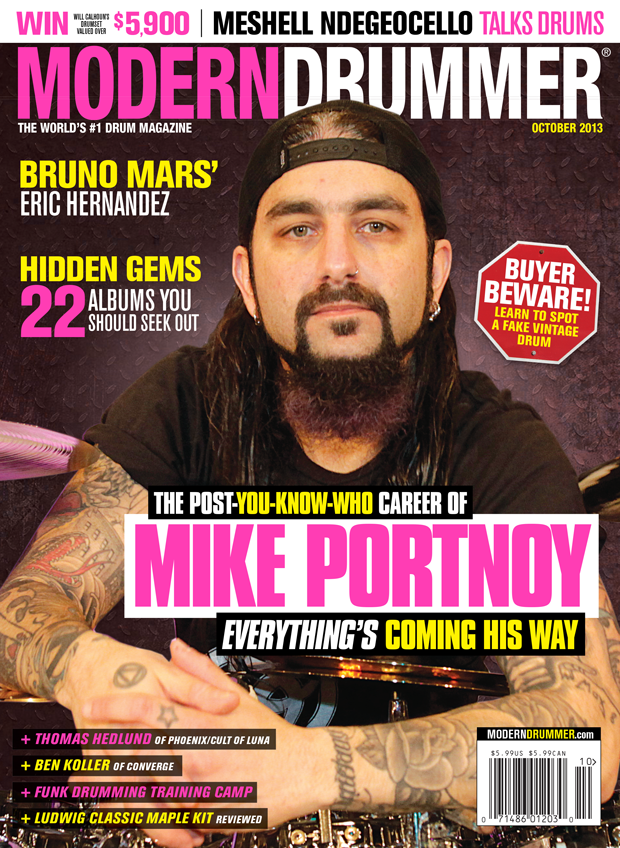 FEATURING
UPDATE
• Warlord's Mark Zonder
• Nashville's Chuck Tilley
• Os Mutantes' Ani Cordero
First Person Bill Bruford
His pull-no-punches memoir is now in its second printing, prompting the drumming hero to wax poetic as only he can in the book's new prologue. It's food for thought that the MD Hall of Famer felt readers might like to nibble on—and what an intriguing appetizer it is.
Portraits Converge's Ben Koller
Finding inspiration ranging from the iconoclastic pomp-rock group Emerson, Lake & Palmer to hardcore titans the Descendants, the metalcore great has a wider musical scope than many fans might imagine. Advertisement
Eric Hernandez
Bruno Mars may be his kid brother, but this drummer has plenty of star power—and musical chops—of his own.
Hidden Gems
MD Pro Panelists Matt Halpern, Pat Mastelotto, Stephen Perkins, Rich Redmond, Steve Smith, Todd Sucherman, and Kenny Washington look beyond the classic drumming masterpieces and hip us to a treasure trove of underappreciated long-players.
Thomas Hedlund
His ability to absolutely kill it across a spectrum of styles, from electropop sensations Phoenix to trance-metal behemoth Cult of Luna, is rooted, he insists, not in technique but in pure emotion.
A Different View Meshell Ndegeocello
"It's truly the drummer who keeps me buoyant and excited," the great bassist, singer, and bandleader says. And with players like Chris Dave, Gene Lake, and Abe Laboriel Jr. to collaborate with, what's there not to be excited about? Advertisement
EDUCATION
Strictly Technique
Chops Builders Hemiolas, Part 1
Rock 'n' Jazz Clinic
Melodic Drumming Tips for Mimicking Guitar Riffs on the Toms
Rock Perspectives
Double Bass Workout Part 3: 16th-Note, 16th-Note-Triplet, and 32nd-Note Combinations
In the Pocket
Funk Drumming Training Camp Part 4: Snare and Bass Drum Interaction
Jazz Drummer's Workshop
Stick Control Revisited Part 2: 3/4 and 6/8 Drumset Applications
In the Studio
Seeing Sounds Part 4: Classic Jazz
PRODUCT CLOSE-UP
• Ludwig Classic Maple Drumset
• Turkish Rhythm and Soul Series Cymbals
• Molecules Acrylic Drumset
• Duende Con Fusion Cajon
• Bopworks Drumsticks Art Blakey, Shelly Manne, and Mel Lewis Signature Models
GEARING UP
Kinky Boots' Sammy Merendino
Collector's Corner
Buyer Beware! Be Careful What You Bid For
New and Notable
DEPARTMENTS
AN EDITOR'S OVERVIEW
What's Your Worth? by Michael Dawson
Readers' Platform
Ask a Pro Nick D'Virgilio, Jon Theodore
It's Questionable
Technology Corner: Room Mics
Showcase Featuring Drum Market
Critique
Inside Methods Roy Burns
Backbeats
• 23rd Annual Chicago Drum Show
Kit of the Month Hoop Dreams
and more!