Melanie Krahmer of Sirsy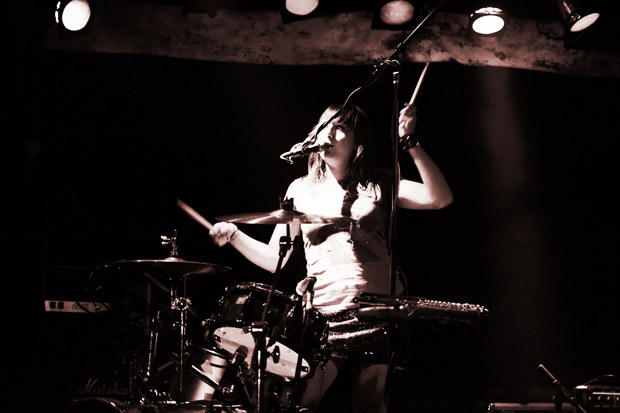 Hi MD! My name is Melanie Krahmer, and I love drumming! Unlike many other artists, I picked up my first pair of drumsticks out of necessity for the band.

Sirsy started as a simple, acoustic duo with my co-writer, band mate, and best friend, Rich Libutti. We wanted to write rock songs and play them our own way, so we assembled a band. Keeping a band together is hard—ask any musician. After many lineup changes we decided the band flowed best and rocked hardest when it was just the two of us playing.
When we were forced to make two people sound like four people on stage, I picked up a pair of drumsticks. During live shows, we wanted to keep up the energy of bands with a front person, so I made up my own way to set up my drums and control the show. With some elbow grease and a little luck we were able to adjust the height of my drumkit and hardware so we could mount the snare in the rack tom slot and the hi-hat above that. For live shows, I skip rack toms and just use a floor tom, kick, snare, hi-hat, crash, and ride.

Rich and I finished our first nationwide tour, where we have ventured away from our east coast and midwest stomping grounds. We played all across the country for the tour of our latest album, Coming Into Frame. We played all over the south—from Birmingham, Alabama to Houston, Texas to the desert in Tucson, Arizona—before we ended up on Sunset Boulevard in Hollywood, California. Advertisement
However, we missed home. We have made our way back to upstate New York, where we are spending the rest of the year playing some of the places we know best.
For more on Melanie and Sirsy, visit Sirsy.com
Top photo by Wyatt Stone; Bottom-right photo by Justin Higuchi.