Guitar Center Launches Its 25th Annual Drum-Off Competition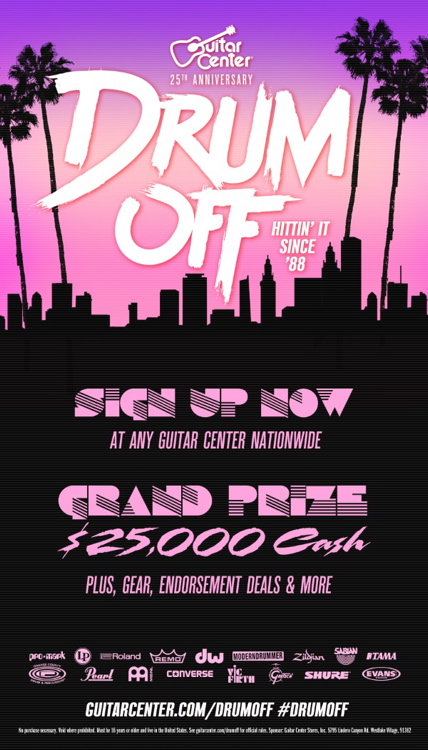 The nationwide competition in search of the next great undiscovered drummer offers the chance to a win career-launching prize package 
Guitar Center's Drum-Off launches its 25th annual search for the next great undiscovered drummer. Developed to spotlight the drumming community, Guitar Center's Drum-Off is the music retailer's longest running artist-discovery program, providing an outlet for drummers to be recognized for their skill and attain success in their field. For a quarter of a century, the program has unearthed some of today's top undiscovered drummers and provided a platform for established drummers to be acknowledged.
Guitar Center's Drum-Off will once again set out to provide a platform for the best undiscovered drummer in the country. Free and open to ages 16 and up, drummers nationwide can visit their local Guitar Center to enter. All in-store quarter and semi-finalists will take home significant prize packages including instruments, drum equipment and accessories, as well as gift cards from Guitar Center and key sponsors. The grand prize package, valued at over $45,000, includes a cash prize, gear and pivotal endorsement deals.
To find a local Guitar Center store location and enter the 25th Season of Drum-Off, visit: www.guitarcenter.com
Guitar Center's Drum-Off Grand Prize Winner to Receive:
$25,000 cash
A Roland TD-30 electronic drum kit + SPD-SX
Write-up in Modern Drummer Magazine
Cover Feature in Guitar Center's Drum Buyers Guide
Custom drum kit by DW, Tama, Pearl, Gretsch or OCDP
Complete Set of Sabian, Zildjian, or Meinl cymbals
Drum, stick, cymbal and drum head endorsement deals (*subject to the vendors terms)
VIP experience at NAMM 2014
How the Competition Works Advertisement
Guitar Center's Drum-Off breaks down into three rounds of store preliminary competitions at 250 Guitar Center locations nationwide. Every contestant will be allowed five minutes of set up time and three minutes to perform. One winner from each store finals competition will be chosen to move up to the quarter finals, (hosted at 30 Guitar Center locations nationwide), followed by semi-finals at five store locations at which point performance time will be increased to allow five minutes to each contestant. The winners from these five semi-final locations will convene in Los Angeles, CA to compete in Guitar Center's Drum Off finals on January 18, 2014 in front of a live audience and a panel of celebrity judges.
Each contestant will be required to perform on a 5-piece acoustic drum kit complete with hardware, cymbals, cowbell, throne and the option to incorporate the Roland SPD-30 Octapad into the competition kit. All contestants will be evaluated by a panel of independent and credible judges on the following criteria: skills & technique, groove, originality, stage presence, and overall performance.
Drum-Off Competition Dates:
Launch/Sign-ups: August 1, 2013
Store Prelims: September 10, 17, 24
Store Finals: October 1, 2013
District Finals: October 22, 2013
Regional Finals: November 12, 2013
Grand Finals: January 18, 2014 
In years past, some of the world's most renowned drummers have participated in and supported Guitar Center's Drum-Off, including: Terry Bozzio, Aaron Spears (Usher), Dennis Chambers (Parliament/Funkadelic),Chad Smith (Red Hot Chili Peppers), Steve Gadd, Questlove (The Roots), Travis Barker (Blink-182), Tommy Lee (Motley Crüe), Dave Lombardo (Slayer), Carmine Appice, John Tempesta (The Cult), Taylor Hawkins (Foo Fighters), Steve Smith, Gavin Harrison, Jojo Mayer, Thomas Lang, Josh Freese (Nine Inch Nails, A Perfect Circle), José Pasillas (Incubus), Billy Cobham, Niko McBrain (Iron Maiden), Stephen Perkins (Jane's Addiction), Danny Carey (Tool), Brann Dailor (Mastodon), John Blackwell, and more. Advertisement
More information on Guitar Center can be found by visiting the company's web site at: drumoff.guitarcenter.com. 
Guitar Center Drum-Off is presented by: DW, OCDP, Pearl, Gretsch, Tama, Latin Percussion, Meinl, Sabian, Zildjian, Remo, Evans, Pro-Mark, Vic Firth, Roland, Modern Drummer, Converse, and Shure.