Product Close-Up: Acoutin Custom Metal/Wood Snares
September 2013
Product Close-Up
Acoutin Custom
Metal/Wood Snare Drums
by Stephen Bidwell
I first became aware of Acoutin Custom at PASIC 2012. Owner/operator Cooper Acoutin was sharing a booth space with fellow builder Ronn Dunnett, and while I was there looking for Ronn, I was surprised by the fresh ideas Cooper was implementing in his drums. If you often have a hard time deciding whether to take a wood- or metal-shell snare on a gig, these unique creations offer a refreshing hybrid solution.
Each Acoutin snare has a metal center shell, which holds all the hardware, and outer wood edges that interlock with the center portion. According to the company website, the system in which the pieces meet is "focused around keyed index points, which allow for exact alignment of snare beds and edges." This system also "ensures precise positioning with every swap of edge material and depth size." You could potentially try out several different wood options for the outer shell, as they are interchangeable.
Metal centers are currently available in stainless steel and brass, while there are more than twenty steam-bent or stave-constructed choices for wood edges. The metal cores are made to the same dimensions, so you could use the same core on the currently available 5.5″-, 6.5″-, or 8″-deep edges with some different lug screws. Head sizes are currently limited to 13″ and 14″. Stave-constructed wood edges can be purchased separately for around $199, while steam-bent edges are $309 per set. These aren't completely unreasonable prices, given that you're basically making a new drum by purchasing the components. Advertisement
We got our hands on two Acoutin snares, both of which were 6.5×14. One featured a stainless steel center in matte black finish and a steam-bent maple outer shell with reinforcing hoops. The other had a brass center finished in satin bronze and stave-constructed hickory edges, also with reinforcing hoops. All wood shells are sourced from Joshua Tree Percussion, and most of the metal work is done in Cooper Acoutin's grandfather's shop. The drums came with Dunnett snare hardware, premium hoops and lug screws, and a modern take on the classic tube lug that had "Acoutin Custom" laser engraved on each. They shipped with Remo heads (Coated Ambassador batter, Clear Ambassador bottom) and Ellis Island twenty-strand snare wires.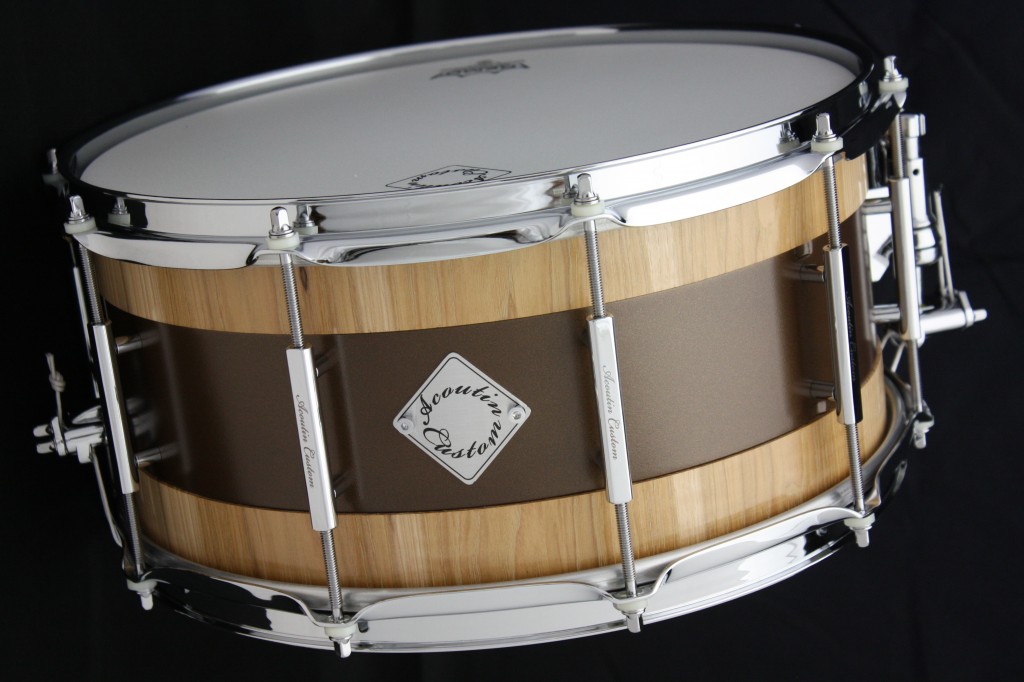 Click here to listen to the hickory/brass version: Acoutin-Hickory-Brass-snare

Click here to listen to the maple/steel version: Acoutin-Maple-Steel-snare

For more info visit acoutincustomsnaredrums.com, and be sure to check out the complete review in the September 2013 issue for additional commentary.
[PCUStat]