Mike Dillon's Adam Gertner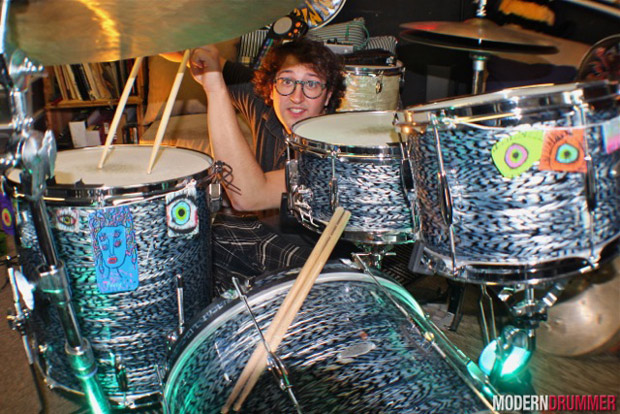 My name is Adam Gertner. I'm twenty-three years old, and for the past eighteen months I've been touring with drummer and percussionist Mike Dillon. For those of you who have never heard his name, you are missing out. Mike has been in bands with some of the world's greatest drummers and has backed some of the biggest headliners. He started in a band with Matt Chamberlain, and then moved onto playing with Earl Harvin, Go-Go Ray (the Drum Counselor), John Speice, Stanton Moore, and now with me.
I feel I have some giant shoes to fill. Dillon has backed Les Claypool and Ani DiFranco on vibraphone, xylophone, timbales, congas, tabla, and everything in between. Playing drumset in his band has been the most fun I've ever had. I get to have my ass kicked nightly by one of the world's best. We call our music New Orleans punk rock. We say New Orleans because music from there means every genre imaginable. And it's punk rock because we rock out as fast and hard as we can. We play a batucada with drum breaks, a go-go medley, a hip-hop medley (where Mike raps), a couple of cumbias, a merengue, and then we salt and pepper everything with rock songs. Mike Dillon writes all the music. Playing in his band has truly been an unparalleled experience.
Playing drumset with two different percussionists in the band is awesome. In addition to Mike Dillon playing his gigantic percussion rig (complete with surdo), Johnny Durkin is playing congas. Johnny has played with a bunch of acts, including Deep Banana Blackout and John Scofield. It has been a completely new experience for me. There's so much time and drums going on around that you don't want to step on anyone's parts, so I keep it simple and just lay down a groove. Everyone seems to be happy with that. In addition to the two percussionists in the band, Billy Martin, Stanton Moore, and Jay Lane have all jumped up on timbales when Mike switches to another drum. It is amazing getting to hang out and play music with some of my favorite drummers. Advertisement
I want to thank C&C out of Kansas City for making me my new favorite drumset. I also want to thank Modern Drummer for giving me the opportunity to write this and Mike Dillon for kicking my ass into shape on the drums.