Thomas Lang, Aaron Spears, Steve Smith, and Dave Weckl Appearing at Cleveland Drum Fantasy Camp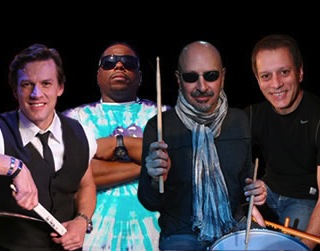 For the seventh consecutive year, Drum Fantasy Camp will allow drummers of all ages, playing levels, and musical genres to spend time in small classes with some of the world's great drummers. This year's camp will be held August 8 through 12 at the Hyatt Hotel in Cleveland, Ohio.
The event pairs drummers of similar playing experience in groups of fifteen, all of which spends a day with each of the four drumming instructors—Thomas Lang, Steve Smith, Aaron Spears, and Dave Weckl.
In the evenings, attendees jam with bassist Baron Browne (Billy Cobham/Vital Information), singer Chrissi Poland (Moby/Scissor Sisters), and guitarist Vinny Valentino (George Benson/Vital Information). Students will also attend the opening concert featuring all of the drummers and musicians at Cleveland's House of Blues. Advertisement
For more information, including how to register, go to drumfantasycamp.com http://www.drumfantasycamp.com or forward questions to camp organizer Steve Orkin at questions@drumfantasycamp.com.