Summer Solstice Brings First-Ever National Music Day to the US
Communities and cities across the country offer more than 2,000 opportunities to make sweet music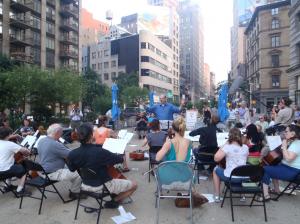 The longest day of the year fills with music as 25 city-wide celebrations along with smaller ones coast to coast join in the first-ever National Music Day on June 21, 2013. All are welcome to participate in the more than 2,000 free, outdoor concerts and occasions celebrating the Summer Solstice by making music.
Modeled after France's Fête de la Musique, National Music Day unites the harmonious efforts of 514 cities in 110 countries around the world in the single largest, global outdoor music celebration, with U.S. cities participating under the name Make Music.
Thousands of live music events incorporating every genre, style and proficiency will fill the streets, sidewalks, public parks and businesses in a national, free-for-all day of music. Free music lessons, jam sessions, drum circles, ukulele flash mobs, orchestral performances, and sing-alongs are just some of the melodious possibilities happening around the country. Spearheaded by the National Music Day Foundation, in partnership with the National Association of Music Merchants (NAMM), National Music Day is designed to encourage everyone to join the world in having fun and enjoying the unifying power and benefits of playing music. Advertisement
A sampling of National Music Day events taking place on June 21 include:
• Mass Appeal (New York) – a series of 22 free, massive outdoor events where the public can pick up an instrument (or bring their own) and join in playing musical arrangements written specifically for each event.
• Record Breaking Keyboards (New York) – the largest keyboard ensemble ever assembled attempts to break a Guinness World Record while premiering pianist Jed Distler's newest composition on 175 battery-powered Yamahakeyboards in the West Village. Following the performance, all keyboards will be donated to the New York City Department of Education. Celebrity guests anticipated.
• Gathering of 400+ Guitars (New York) – 400 guitar players and fans meet in Union Square for a group strum-along. Free lessons offered earlier in the day by GAMA so anyone can play along with the group that afternoon.
• Rhythm on Rikers (New York) – ten weeks of music theory and drum lessons taught to Rikers Island inmates by professional percussionists culminate in a concert finale for fellow inmates. Drums provided by REMO.
• Casio Karaoke Truck (New York) – sing along or step up to a keyboard to perform live requests on-demand from the back of the Casio rolling karaoke truck. All are welcome to take the mic and center stage, performing one of 200 melodies at Make Music NY locations across the city on Music Day.
• Harmonicas for All (NY, LA, Denver, Portland, Madison) – In Central Park, harmonica virtuoso Jia-Yi He (seen on "America's Got Talent") offers free harmonica lessons to the public with instruments provided by Hohner. Additional hamonica events open to all will take across the country including Los Angeles, where Tom Nolan Band will lead 100 players at Santa Monica Beach.
• Play the Plaza (Chicago) – hundreds of musicians of all ages fill the plaza of Chicago's renowned Richard J. Daley Center for a stringed performance with the Rise & Shine Orchestra, a Broadway sing-along, and John Philip Sousa's famous Sousapalooza march.
• Make Music LA Kick-Off Concert (Los Angeles) – celebrated composer and arranger Miguel Atwood-Ferguson debuts his latest work in a free, public concert on the South Lawn of the Los Angeles City Hall on June 20.
• Song Reader Stage (New York) – Song Reader, Beck Hansen's 2012 album, consists of 20 songs published as sheet music. No recorded version of the album exists – to hear the songs, they must be played! An outdoor stage in Astor Place welcomes people to play their version of the album all afternoon.
• Musical Madison (Wisconsin) – the city's largest outdoor music celebration ever takes to the streets with more than 50 free, outdoor events on one day.
Additional information on the above events can be found at: Make Music New York: www.makemusicny.org, Chicago: www.makemusicchicago.com, and Los Angeles: www.makemusicla.org. For a list of participating cities and further information on National Music Day, please visit: www.nationalmusicday.org.