Shawn Pelton Joins JD & the Straight Shot to Open for the Eagles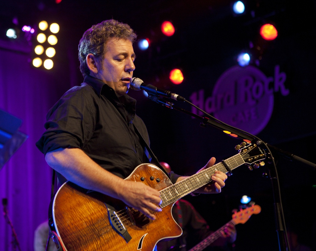 Blues-rock band JD & the Straight Shot have announced that they will be opening for the Eagles on the "History of the Eagles" tour this July. The tour kicks off on July 6 in Louisville, with twelve concerts scheduled through July 25. In celebration of the release of the Eagles' documentary, History of the Eagles, the Eagles will perform concerts in Milwaukee, Wisconsin; Cleveland, Ohio; Toronto, Ontario; Grand Falls Windsor, Newfoundland; Ottawa, Ontario; Philadelphia, Pennsylvania; Uncasville, Connecticut; Boston, Massachusetts; Washington, D.C., Pittsburgh, Pennsylvania; and Bethel, New York. For tickets and more information, visit: www.thestraightshotmusic.com.
Frontman Jim Dolan founded JD & the Straight Shot in 2000 with friends from the office. Dolan works as president and CEO of Cablevision, executive chairman of Madison Square Garden, Inc. and also oversees New York sports teams, the New York Knicks and the New York Rangers. Although it began as a side project, JD & the Straight Shot has migrated in a new direction over the past several years – recording and touring heavily to promote their new unique sound and new members.
The band's members are Dolan, guitarist Marc Copely (B.B. King), and guitarist Adam Levy (Norah Jones, Amos Lee). The band also features keyboardist Brian Mitchell (Bob Dylan, Levon Helm), who also adds harmonica and accordion to the mix. Rounding out the band are some of pop music's finest session players, drummer Shawn Pelton (Rod Stewart, Pink, Daryl Hall, Buddy Guy), bassist Zev Katz (Aretha Franklin, Elton John), and violinist Lorenza Ponce (Sheryl Crow, Ben Folds, Bon Jovi). Advertisement
With the release of their fourth studio album last summer, JD & the Straight Shot continues to showcase their signature bluesy sound while incorporating distinct New Orleans root influence. The album, Midnight Run, was produced by Kevin Killen (U2, Peter Gabriel) at New York's famed Avatar Studios.
For more on JD & The Straight Shot visit: www.thestraightshotmusic.com.
History of the Eagles Tour Dates:
| | | |
| --- | --- | --- |
| Date | Location | Venue/Info |
| July 6, 2013 | Louisville, KY | KFC YUM Center |
| July 7, 2013 | Milwaukee, WI | Summerfest |
| July 9, 2013 | Cleveland, OH | Quicken Loans Arena |
| July 11, 2013 | Toronto, ON | Air Canada Centre |
| July 13, 2013 | Grand Falls Windsor, NFLD | Salmon Festival 2013 |
| July 15, 2013 | Ottowa, ON | Scotiabank Place |
| July 16, 2013 | Philadelphia, PA | Wells Fargo Center |
| July 18, 2013 | Uncasville, CT | Mohegan Sun |
| July 19, 2013 | Mansfield, MA | Comcast Center |
| July 22, 2013 | Washington, DC | Verizon Center |
| July 23, 2013 | Pittsburgh, PA | Consol Energy Center |
| July 25, 2013 | Bethel, NY | Bethel Woods Center For The Arts |