Queens of the Stone Age <em>…Like Clockwork</em>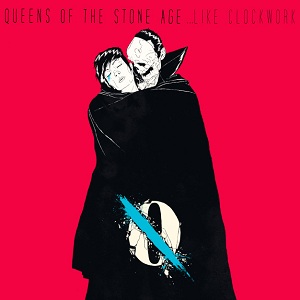 After a six-year absence, Queens of the Stone Age are back with a new sound on their latest record, …Like Clockwork. The ten-track album came with its fair share of trials and tribulations, though. Complications from a knee surgery back in 2010 left frontman Josh Homme hospitalized for thirteen days and bedridden afterward for four months, falling into a deep depression. While he was reluctant at first, at the urging of his bandmates he agreed to return for a new album. This undoubtedly made it that much harder for Homme to let go longtime drummer Joey Castillo halfway through the recording process (even though the split was amicable, according to a Spin interview).
So what did Homme do? He called in a buddy, mega rock star Dave Grohl, to finish up the tracks. Grohl lends his skills to five songs out of the ten, while Castillo is on four and the band's new touring drummer, Jon Theodore (of Mars Volta fame), plays on the title track. Homme's all-star cast doesn't stop there, with big talents such as Trent Reznor, Alex Turner, Jake Shears, and Elton John (of all people!) adding their names to the Clockwork credits.
What we're left with is an intimate album that touches on dark and sensitive themes such as death and lost love, clothed in the hard rock you'd expect from QOTSA. The result has certainly resonated with fans; …Like Clockwork earned the band its first number-one debut on the Billboard charts. Advertisement
One highlight of the album is the opening track, "Keep Your Eyes Peeled," which is driven by a hulking ogre of a bass line. The beast trudges on with a laboring groove that's cemented by Castillo's 6/8 drumbeat. The rhythms are accented nicely with an open hi-hat on the upbeats and an anchoring bass drum to match up with the riff. Homme periodically slices the melody with his cutting wah pedal, which Castillo mirrors perfectly with some quick snare hits.
The single "My God Is the Sun" features a surf-rock-reminiscent guitar riff from Homme over a 6/4 beat. Grohl gives the song a slithering triplet feel on the verse and a quarter-note crash-and-snare beat on the chorus, recalling the most brutal of his Nevermind aggressions. The rest of the album ranges from hauntingly contemplative on "Kalopsia" (a word that refers to the delusion that things are more beautiful than they really are), which is paired with a disturbing yet peaceful music video, to downright funky on "Smooth Sailing," which adds a grounded drumbeat, some clapping snare, and quick block strikes to Homme's mischievous falsetto vocals.
There's plenty of variation from track to track, while the vibe of the album still screams Queens of the Stone Age. The band explores many sounds on the music spectrum, from pummeling hard rock to sensitive ballads. The outcome is a solid showing from the reliable rockers—there's plenty to pass the time to on …Like Clockwork. (Matador) Advertisement
Alex Fredkin