Product Close-Up: Meinl Byzance Extra Dry Thin Ride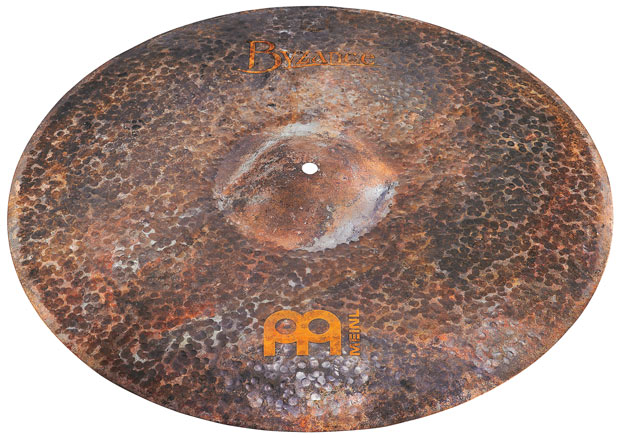 August 2013
Product Close-Up
Meinl
Byzance Extra Dry Thin Ride
by Anthony Riscica
From the ever-growing collection of cymbals Meinl comes the new 22″ Byzance Extra Dry Thin ride. The ride complements its previously released medium-weight counterpart, with a softer feel and more crashability, while retaining a defined stick sound.
This 22″ B20 bronze cymbal features an unlathed finish, with broad and fine hammer marks on the bow, and a raw bell. Its sound when hit with the tip of the stick was most definitely dry, with warm, dark undertones that were easily controlled but offered a pretty wide sonic palette for a cymbal of this nature. Add to that the way the ride opened up when crashed on the edge, and you've got an expressive cymbal that sets itself apart from other "extra dry" models.
The bell sound was present but tended to resonate through the cymbal, keeping it from being a typical dry bell that cuts with definition. The bell is also relatively shallow for a 22″ model, which is part of the reason why it vibrated throughout the cymbal. Overall, I really enjoyed this ride. It's made with undeniable quality and is versatile enough to handle its intended jazz, funk, R&B, studio, and electro applications. I also used it in more of a rock setting, and it handled the live show well, adding a warm base to some harder-hitting music. Advertisement
For the complete review, including a look at Meinl's RAPC bongos, check out the August 2013 issue of Modern Drummer.
Click here to listen (Right click and 'Save as' to save)
http://www.youtube.com/watch?v=lSgjgTInxQY