Majestic Percussion Adds Audio Catalog Online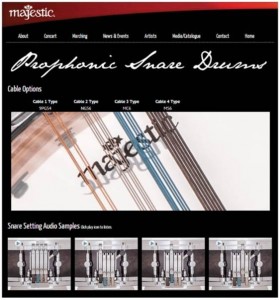 Majestic Percussion has added an online audio sample catalog to allow percussionists to experience the entire range of the sounds and timbres possible with their lineup of Prophonic snare drums at www.majesticpercussion.com.
Each model in the Prophonic series features four independently controlled snare cable types, offering a total of sixteen different tonal settings per drum. The simple, intuitive layout now presented on the Majestic website features examples of all six Prophonic drums employing every possible cable combination. A total of ninety-six sound samples are available for the customer to experience when deciding on which model best fits his or her needs.
"I am very pleased that we are able to offer those exploring instruments online the opportunity to hear the entire pallet of tonal possibilities that our Majestic Prophonic snare drums have to offer," says Majestic product manager Chris Hankes. "These drums always impress when a percussionist has the opportunity to play them in person, and we wanted to find a way to simulate that experience online," Advertisement
For more information, visit the Majestic Percussion website at majesticpercussion.com, its Facebook page at facebook.com/MajesticPercussion, or Twitter @MajesticPerc.