Jamey Tate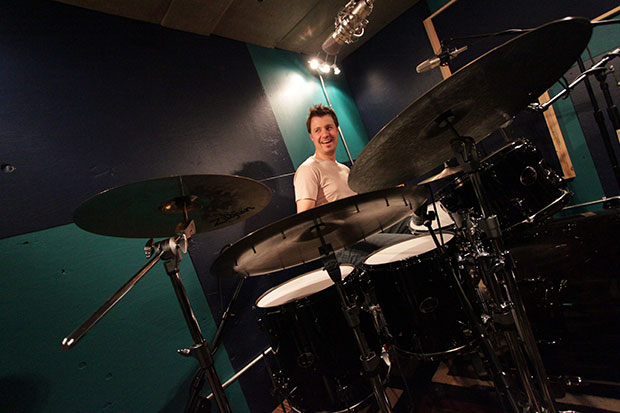 Hi, MD readers. My name is Jamey Tate, and I am a Los Angeles–based studio and touring drummer. Having been a Modern Drummer reader for as long as I can remember, it's truly an honor to join in and write this blog.
I am largely known as a jazz player after studying for many years with Peter Erskine. While big band playing is my first love, I have also spent a lot of time in the studios here in LA, and in doing so have become known as a chameleon of sorts, jumping from jazz to rock, fusion, funk…you name it. As a result, I have spent the better part of the last ten years performing with artists including David Benoit, Mindi Abair, Tom Scott, Al Jarreau, David Pack of Ambrosia, Jeff Lorber, Christopher Cross, the New York Voices, the Stan Kenton big band, Renee Olstead, American Idol's Justin Guarini, Melissa Manchester, Brian Simpson, Patrick Williams, Kim Richmond, and Bonnie Raitt, to name a few. In addition to my playing career, I also enjoy writing music and released my first solo CD in 2011, roTATEd. It features some of my favorite musicians, friends, and a few special guests, and it's all-original music—mostly my own writing with a couple of contributions from friends. I have also written commercial music for companies like Kia, McDonalds, AT&T, and ESPN.
Keeping with my chameleon reputation, I am also a musical director and producer, and I operate my own studio here in LA, called The Workshop. I have spent the last three years as the musical director for the Music Center Spotlight Awards Gala Performance at the Dorothy Chandler Pavilion, as well as for artists like Lou Giovannetti and Selina Albright. I am currently producing projects for vocalist Selina Albright, trumpeter Justin Ray of Michael Buble's band, and Indonesian vocal artist Tompi. Advertisement
Recently, I was honored to join the family at Sakae drums. Based in Osaka, Japan, Sakae has been making some of the greatest and most influential drums of the last forty years as a "behind the scenes" manufacturer for another company. Now they have decided to go out on their own and what they have come up with is truly something special. They now have three kits in their lineup, the all-maple Almighty, the Trilogy 3-ply "vintage" series, and the Celestial hybrid-shell kit. I can honestly say that these are the most inspiring drums I have ever played, not to mention the hardware! The new tom-mount system Sakae has designed is more solid, more stable, and more cleverly adjustable than anything I have ever used. I encourage every drummer to check these out.
Hope to see you out on the road soon.
For more on Jamey Tate, visit www.jameytate.com.
Photo by Justin Schiada