Steve Grantley of Stiff Little Fingers and RT-Zed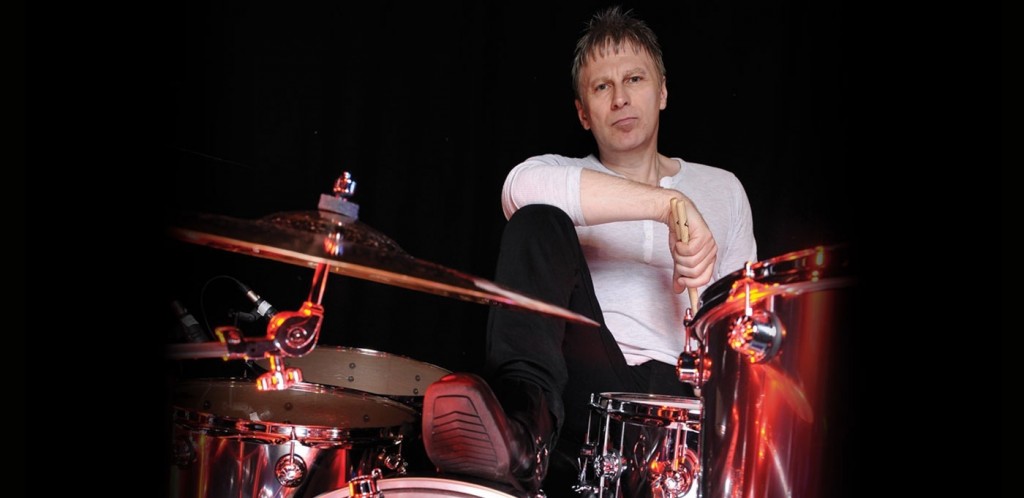 Hello! My name is Steve Grantley. I have been playing drums with legendary punk band Stiff Little Fingers for the last seventeen years. I was also a member of the Alarm for twelve years and have worked with Glen Matlock of the Sex Pistols, Billy Duffy of the Cult, and Bruce Foxton of the Jam. I also have my own band, RT-Zed.
Stiff Little Fingers just started a seven-week tour of the United Kingdom and Europe. We will be playing the famous Barrowland venue in Glasgow on St. Patrick's night. This will be the twenty-second consecutive Barrowland St. Patrick's gig the band has played, which is somewhat of a record. It's a very special night in an extraordinary venue with a phenomenal audience.
Especially for this tour, my drum company, Natal, made me a red Perspex acrylic drumkit. It includes a 12×14 rack tom, 16×16 and 16×18 floor toms, and an 18×26 kick drum. I have a cymbal endorsement with Paiste cymbals. I use the 2002 and Giant Beat series. They sound amazing, and I like the fact that a 20″ Paiste crash in London sounds the same as a 20″ Paiste crash in New York. You don't have to hunt for the good one—they're all sweet! Advertisement
I use Vater 7A Manhattan drumsticks. It's quite a light stick, almost a jazz choice, and I'm a big hitter, but they bear up fine under my persistent assault. I use a light stick because I find that it saves energy, rather than having to make a larger stick work. The sticks very rarely break—they just slowly wear away but are extremely durable.
If I have any advice to give it would be use what's best for you and not what your particular drum hero uses. Choose equipment that suits your needs.
Stiff Little Fingers will be recording an album this summer. We're talking to a number of producers based in the states, so that will be fun. My RT-Zed record will be out in May 2013, and I'm excited about that. But until then, I'm on the road with SLF, tearing it up every night and having a ball playing drums. Enjoy your playing!
For more on Steve Grantley and his band RT-Zed, visit www.stevegrantley.co.uk and www.rtzed.com. For more on Stiff Little Fingers, visit www.slf.com/homebase.cfm.