Sabian Cymbals Founder Passes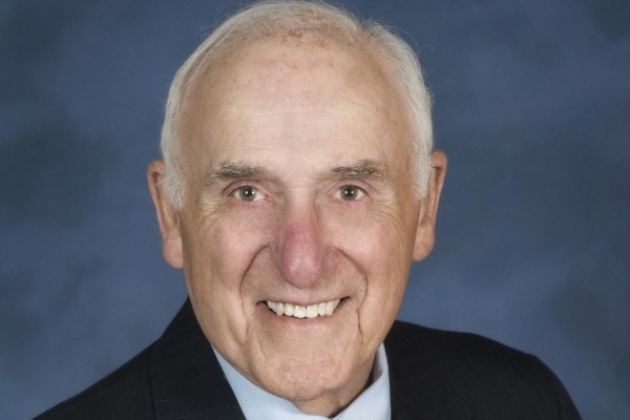 Robert "Bob" Zildjian, founder of the Sabian cymbal company, passed away on March 28, at his home in Brunswick, Maine. He was eighty-nine years old.
Robert was a descendant of ten generations of Armenian cymbal makers, including his father, Avedis, and uncle Aram, who emigrated to Boston in the early 1900s and set up the popular Avedis Zildjian Company.
As teenagers, Bob and his older brother, Armand, apprenticed at the company factory, learning the secret manufacturing process. After serving in World War II, Bob returned home and launched his career in the family business. Wearing many hats—in accounting, advertising, artist relations, and sales—he quickly became an important person in the music products industry, spending much of the 1950s and early '60s developing company sales outside the USA, primarily in Europe.
In 1967 Avedis Zildjian charged Bob with setting up a subsidiary operation to serve the rapidly expanding cymbal market. A factory was built in Meductic, in southwest New Brunswick, Canada, producing cymbals under the Azco name. Advertisement
In 1979, at the age of ninety, Avedis Zildjian died. In keeping with family tradition, he left the entire business to Robert and Armand. As the eldest son, Armand inherited the controlling share. The brothers quarreled, and two years of litigation in Massachusetts courts resulted in a settlement under which Armand kept the A. Zildjian Company and Bob received the Azco subsidiary.
Robert opened a new cymbal company in 1981, Sabian, which was conceived as an acronym formed from the first two letters of the names of his children, Sally, Bill and Andy. It was clearly a major challenge to start a brand-new cymbal firm at the age of fifty-seven, but Robert built Sabian into one of the most recognized product names in the music industry.
A viewing for Robert Zildjian will be held at Scott Funeral Home in Woodstock, New Brunswick, Canada, on April 5 from 2 to 4 p.m. and 7 to 9 p.m. Funeral services will be held at the St. James United Church of Canada, in Woodstock, New Brunswick, on April 6 at 4 p.m. For more details, go here. In lieu of flowers, the family is requesting that donations be made to the Salvation Army. Advertisement