<em>MD</em> columnist Stephen Bidwell at SXSW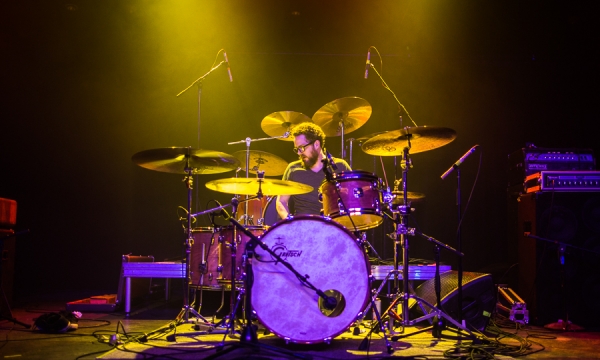 For a little over a week in the middle of March, Austin, Texas gets invaded by several branches of the entertainment industry. The South by Southwest (SXSW) music conference started out in the late 1980s as a showcase for the Austin music scene and unsigned bands but has expanded wildly into a ten-day affair; showcasing new films, new interactive technology, and a wildly expansive music festival that overtakes every conceivable venue in the city and nearby.
If memory serves, this is my ninth SXSW, and this year I played several unofficial shows with my Afrobeat band Hard Proof, one official show with my rock band the Calm Blue Sea, saw a ton of bands, and talked with a few other drummers about their experiences at the festival.
The music portion of the festival generally starts on a Tuesday (the film and interactive portions start on the preceding Thursday) and features shows occurring fifteen hours a day through the following Sunday. As a music fan, this is overwhelming to say the least. There are usually some huge shows with big name artists involving ticket lotteries and huge lines, parties thrown by music magazines and corporate sponsors, and lots of smaller shows hosted by organizations with less money to throw around. My strategy is generally to pick a few bands that I'd be willing to wait in line for as well as some bands involving friends that I don't get to see too often, and then I fill in the rest of the time with biking around and following my ears. These activities occur between my own gigs and juggling domestic and day-job responsibilities. Advertisement
My own week of shows started Monday night with Hard Proof. The music went from 2pm to 2am, and the inside room of the club was at capacity when we went on. Getting a packed crowd to bounce around to a ten-piece band is an amazing feeling every time. Somehow I managed to line up five shows with backline drums this year, and that brings me to one fact of life with a festival of this magnitude—it's just easier to play house drums. No matter where the show is, getting your own kit there will be a pain. On this night, there was an Arkansas-made Slingerland. It had no rack tom and less-than-optimal hardware, but I was glad to have a 24″ kick drum backing a ten-piece band.
While making the rounds that evening, a friend of mine who plays with JJ Grey and Mofro told me if I interviewed one guy this week it should be his drummer Anthony "AC" Cole. I'm not sure why more of us don't know about this cat, as he comes from the same bloodline as Nat "King" Cole, has been performing on multiple instruments since age three, toured and recorded with jazz saxophonist Sam Rivers for fifteen years, and lays down some serious southern funk and soul with Mofro. This trip to Austin found the band sharing stages with the Soul Rebels Brass Band and Ivan Neville's Dumpstafunk on Friday night and Steve Earle and Robert Randolph on Saturday's fundraiser for Levon Helm's barn. "Even though I might be on a huge bill, I still get star struck and sometimes might forget that I even have to play," AC said. He came to town with only sticks and cymbals, as he has some prized snares he prefers not to take out of the studio. AC only plays a two- or three-piece kit for a few reasons. For starters, in his earlier years gigging in Florida, he would leave drums in various places around town and find himself with only two drums come downbeat time. Also, while touring Europe with Sam Rivers, he would see guys like Han Bennink make a ton of music with almost nothing. In the case of JJ Grey's music, AC says, "The easiest thing to do is a drum fill, but the hardest thing is to just groove. Even having a floor tom sometimes gets in the way of JJ's music."
On Wednesday, I had an official showcase. My rock band the Calm Blue Sea is on a small Austin-based label (Modern Outsider), and we divide backline duty among bands. As I brought drums last year, I let someone else volunteer this time around. Billy Potts of the Black & White Years offered up one of his C&C kits, so I really lucked out. Advertisement
There is one moment of mild frustration and great joy I look forward to on these label shows, and that is watching Rachel Fuhrer of Ume play circles around me. Ume is a power trio with a sound somewhere between Sonic Youth and Blonde Redhead, with a few discernible post-hardcore influences and a five-foot-tall front woman who shreds on guitar. They've toured all over the US with the Toadies and Helmet in the last year, and played a Lollapalooza after show on an invitation from Perry Ferrell.
I slipped out of the showcase for a short while, as Maserati was playing about seven blocks away and were on my list of must-see bands for the week. I've wanted to see them since the late Jerry Fuchs was in the drum chair, but current drummer Mike Albanese laid it down with authority and precision on a 1970s fiberglass Fibes kit.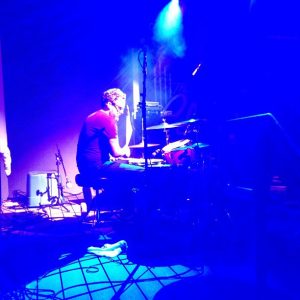 Some friends have been talking about this band from Nashville called Diarrhea Planet for months now, and I finally got to see them on Thursday at a day party. They have four guitar players who share vocal duties and tap solos on their anthem jams. Drummer Casey Weissbuch kicks the whole thing in the ass and sneaks in a few tricks he picked up either as music major at Belmont University or in his other bands, the Pinstripes and Till Plains. If you need a life-affirming rock and roll experience, just forget about the name for a second and go see this band. Advertisement
It was kind of hard trying to find something to top Diarrhea Planet. Even Philadelphia-area post-hardcore band Pissed Jeans, whom I expected to be huge, couldn't top their energy, although I was glad to see them, as they don't leave the northeast very often. After Pissed Jeans, I biked across town for the Daptone Records Revue showcase. A 1960s soul revue was the best overall concept for a showcase I've seen at SXSW, and they executed it as near perfect as possible. The music never stopped from when I arrived during the Menahan Street Band's set through Sharon Jones demonstrating the most popular dances of 1965 with the Dap Kings, who were anchored by Homer Steinweiss. As a finale, there was the Ethiopian-rooted funk of the Budos Band.
On Friday, I met with Quin Kirchner, a friend from grad school at the University of New Orleans and now Chicago-based drummer for Wild Belle, In Tall Buildings, and NOMO. We caught up after he played for a completely packed day party at Cedar Street with Wild Belle, whose debut had come out on Columbia that week. Quin's regular live kit is a 1970s Slingerland with concert toms, but he traveled to SXSW with only a 24″ Bosphorous Masters ride, a pair of hi-hats made of vintage A and K Zildjian bottoms, and a mid-'90s Pearl Export snare tuned to get the low, fat tones he uses in Wild Belle. "I've got a thick Emperor X head on it, and you can tune it low enough to where it won't dimple," he says. "I use light, torn-up t-shirts for muffling. It's an important sound for this band, and I have trouble getting that tuning from most backline snares."
One Saturday, I got to catch up with one of my favorite drummers, Paul Quattrone of !!! (Pronounced "chk chk chk"). There is a night-and-day difference in watching him in his old band, the Modey Lemon, and in seeing him play precise dance-punk with !!!. On playing with loops live, he says, "I think of playing with percussion loops like playing with a really solid percussionist. I'm going to have to switch to in-ear monitors someday soon because of hearing loss, but for now I just have all the loops cranked in the monitors." He had recently spent some time in Austin recording !!!'s new record at Jim Eno of Spoon's Public HiFi Studio. "Jim nailed it every time," says Paul. "Whatever the song called for, he always knew how to complement it with the drums and do it super efficiently. He's a great producer with a drummer's ear." Advertisement
I was very lucky to have all my shows backlined this year. That might be a disaster for some pickier folks, but being completely worn out from carting gear around always affects my performance more than not being completely satisfied with a house kit's tom heads. I typically only play a four-piece with three cymbals, and if I bring any electronics, it's a MicroKorg keyboard that I play with my left hand. This laziness came to haunt me once this year, when during the first song of my last show of the week the house throne dropped six inches and I had to play with my wrists at shoulder level for ninety seconds before repositioning the entire kit during a conga break so that I could sit on an adjacent booth seat instead of the throne.
While I can't say the SXSW festival has ever paid my bills as a musician, I always manage to hear something new or get inspired to work harder on my own music. I've had some small victories that would never have happened if not for SXSW. The Calm Blue Sea wouldn't have a label if one of the founders hadn't been in the booth when we did a SXSW taping for the now defunct WOXY Internet radio station, and we never would have gotten the crucial media coverage that has helped us sell a few records. I could honestly write a novel about everything else I saw this year (I haven't even mentioned seeing the Flaming Lips playing their new record, the Prince show I didn't get into, or a surreal interaction I had with Bushwick Bill of the Geto Boys during my final load-out). But catching up with old friends and seeing bands I would never think to check out makes having my town taken over for a whole week worthwhile.