Swiss Chris Drum Clinic at LIDC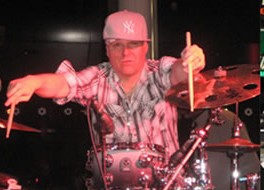 On April 25, at 7 pm, the Long Island Drum Center of Plainview, New York will present an in-store performance and clinic by acclaimed drummer and music director Swiss Chris. Chris has worked with a range of pop and R&B artists, including John Legend, Sir Elton John, Kanye West, Corinne Bailey Rae, Snoop Dogg, Common, India Arie, and Wyclef Jean. Tickets for the clinic are $7, and seating is limited.
To celebrate this event, if you purchase a Natal drumkit between April 20 and 30, you will receive a $650 drum for free.
To purchase tickets to Swiss Chris's clinic, call 516-694-5432 or go here. 

Additional information can be found at lidrum.com.