"40 Years of Spectrum,??? Live Online Workshop with Billy Cobham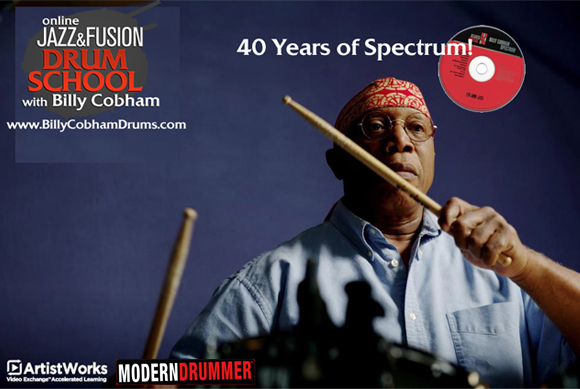 ArtistWorks, a leading provider of interactive online music lessons, has teamed up with Modern Drummer to present a live-streaming workshop with master drummer and ArtistWorks online teaching artist Billy Cobham.
The "40 Years of Spectrum" live-streaming event takes place March 16 at 9 am Pacific Standard Time and will be moderated by Modern Drummer managing editor, Michael Dawson. The event will feature Billy Cobham at the kit talking about the making of Spectrum and demonstrating many of the techniques that make him one of the most influential drummers of his era.
Spectrum is Cobham's landmark fusion album that was released in 1973 and, in addition to Cobham, features legendary musicians Jan Hammer, Tommy Bolin, Leland Sklar, and others. The album is largely credited as being a major influence on a generation of rock, jazz, funk, and fusion bands.
Billy Cobham teamed up with ArtistWorks last year to start the Online Fusion Drum School with Billy Cobham. "This live event, my tour, and my ArtistWorks online school give me three amazing ways to share this music with fans and aspiring performers," says Cobham. "The fact that Spectrum remains in the hearts and minds of people around the world is a gift, and I look forward to sharing that with drummers around the world."
In honor of the live streaming workshop, ArtistWorks is giving away a prize pack that includes a 20″ Sabian Artisan Light ride ($799 value), a box of Vic Firth Billy Cobham signature sticks (a $198 value), a set of Evans drumheads (a $154 value), and a Shure PGDMK6 drumkit mic pack (a $499 value).
"40 Years of Spectrum" will stream live at ArtistWorks.com and at moderndrummer.com here.
For more information and to sign up for the event, go to the ArtistWorks Event Page on Google Plus.
To enter the contest, go  here.