The April 2013 Issue of Modern Drummer magazine featuring Tommy Igoe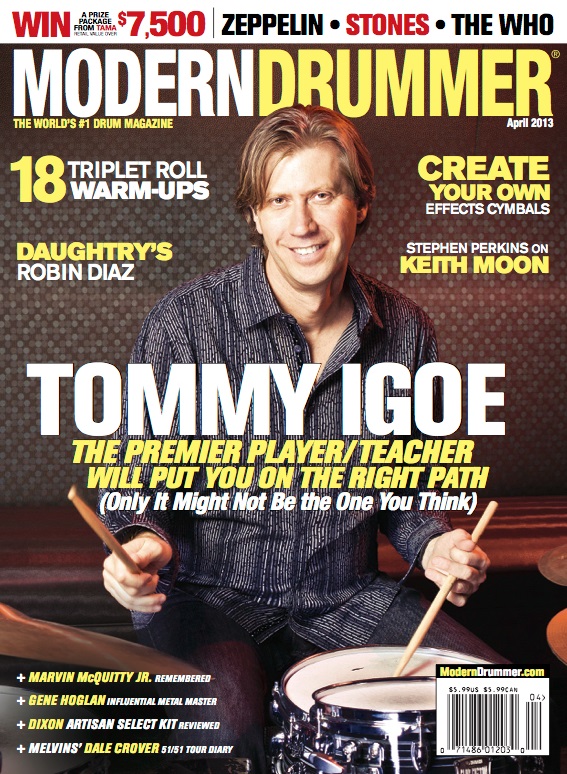 (on newsstands March 5, 2013)
On the Cover
TOMMY IGOE
It's simple: Hang with the Broadway and big band vet long enough, and you will become a better drummer. Class is now in session.
FEATURING
UPDATE
• Studio Ace NIR Z.
• Antibalas's MILES ARNTZEN
• Utopia's KEVIN ELLMAN
FIRST PERSON DALE CROVER on Melvins Lite's Record-Setting 51/51 Tour
GET THE BEST Featuring Led Zeppelin, the Rolling Stones, and the Who
STEPHEN PERKINS ON KEITH MOON
The MD Pro Panelist and Jane's Addiction drummer discusses the Who classic Live at Leeds.
ROBIN DIAZ
Landing a permanent gig with Daughtry carries a lot of meaning for the former "ghost drummer." Now his beats are his, and his alone.
INFLUENCES: GENE HOGLAN
He introduced a style of metal drumming that took the road less traveled—and we've stayed glued to the Atomic Clock's GPS ever since.
A DIFFERENT VIEW: STEVE HACKETT
EDUCATION
STRICTLY TECHNIQUE
Loosen Up! 18 Triplet-Roll Warm-Ups to Get You Going
AROUND THE WORLD
Implied Brazilian Rhythms on Drumset Part 1: Maracatu
ROCK 'N' JAZZ CLINIC
Grooving With Fives A Progressive Approach to Phrasing Quintuplets on the Drumkit
ROCK PERSPECTIVES
The Half-Time Shuffle Variations on One of Drumming's Slinkiest Groove
JAZZ DRUMMER'S WORKSHOP
Pete La Roca Sims Style & Analysis
EQUIPMENT
PRODUCT CLOSE-UP
• DIXON Artisan Select Drumset
• PAISTE Formula 602 and Giant Beat Additions
• AQUARIAN Nu-Brite Film and Super-Kick 10 Bass Drum Head
• ANTONIO DRUMS 41/2×14 True Solid Maple Snare
ELECTRONIC REVIEW
•AKG D12 VR Microphone
GEARING UP
David Byrne and St. Vincent's BRIAN WOLFE
SHOP TALK Cutting-Edge Cymbals
NEW AND NOTABLE
DEPARTMENTS
AN EDITOR'S OVERVIEW
Doing the Hard Work by Michael Parillo
READERS' PLATFORM
ASK A PRO Aaron Spears, Philly Joe Jones
IT'S QUESTIONABLE
• Relic in the Attic
• Mind Matters: Why Can't We Be Friends?
SHOWCASE Featuring Drum Market
CRITIQUE
IN MEMORIAM Marvin McQuitty Jr.
KIT OF THE MONTH This Old Thing?
and more!