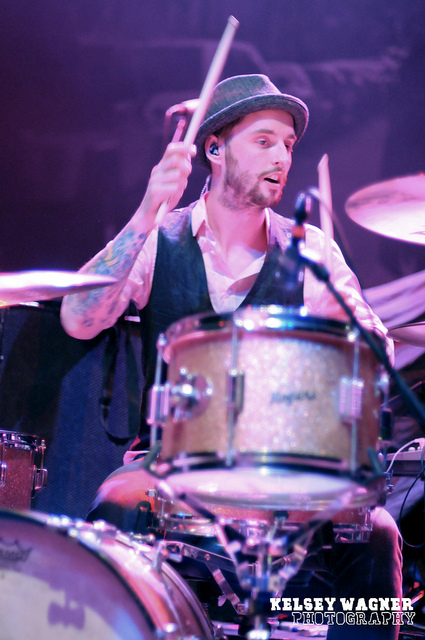 Hello friends! I feel honored to have been given the chance to write my second blog for Modern Drummer. To catch you up a bit on what's been going on in the world of A Rocket to the Moon, in 2012 we toured alongside our friends Austin Gibbs and Bonaventure. It was great to get out there and reconnect with our fans, which have been waiting patiently for our latest record, Wild & Free. In the meantime, we released an EP called That Old Feeling with four songs that will be included on the album Wild & Free, available on March 26 on iTunes, so check it out! On all these new songs, I used my wood-burned SJC kit, and traded snares in and out depending on the vibe of the song. My good buddy Mike Marsh (a huge drumming influence on me) lent me a few different options, and I also had my 8×14 bell brass SJC in the mix, as well as my 5 1/2×14 1965 Rogers champagne sparkle. (Not that it matters for recording, but it's gorgeous!)
I'm also happy I got to use my live cymbal combination on the record (mostly Zildjian Ks and K Customs), so that it reflects the way my drums sound when you come to see ARTTM live. For me, that is one of the coolest things about the record. I feel like it's my sound, because it's my drums and me (and of course, a few of my friend's snares). That's not always the case with recording, as many drummers can attest to. And often you lose the sound of the actual drums with triggering and editing. I don't feel like that happened on this record, and I hope if and when you hear some songs you feel the same way. As an example, from the EP, you'll be able to hear the ringy, open crack of the '65 Rogers on "You're My Song," as it contrasts with the thuddy, full-bodied crack of my bell brass on "First Kiss." I encourage you to download the EP (shameless plug) and see if you agree. Thanks again to Modern Drummer for letting me contribute, and thanks to my wonderful sponsors, SJC, Zildjian, Vater, and Gibraltar.
To watch a video for the song "Whole Lotta You," go here. For more on the band, visit www.arockettothemoon.net.