The March 2013 Issue of Modern Drummer featuring Lamb of God drumer Chris Adler!
(on newsstands February 5, 2013)
On the Cover
CHRIS ADLER
For Lamb of God's drummer and his mates, the toughness they built up living hand to mouth early in their career would never come in more handy than during recent events.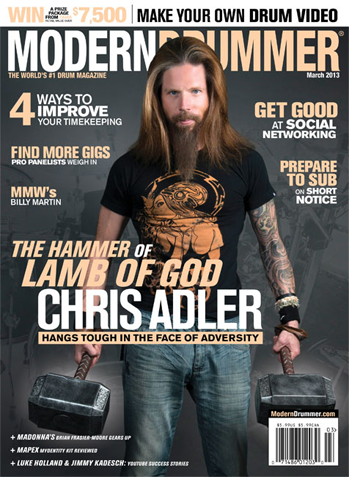 FEATURING
UPDATE
• Parkway Drive's BEN GORDON
• Florida Georgia Line's SEAN FULLER
HOW TO PREPARE FOR A SUBBING GIG ON SHORT NOTICE
GET GOOD: SOCIAL NETWORKING
FINDING GIGS
DAFNIS PRIETO and TAKU HIRANO Weigh In
YOUTUBE SUCCESS STORIES
• The Word Alive's LUKE HOLLAND
• Hoodie Allen's JIMMY KADESCH
MAKE YOUR OWN DRUM VIDEO
BILLY MARTIN
The Joy of the Imperfect
PORTRAITS
Trey Anastasio Band's RUSS LAWTON
EDUCATION
HEALTH AND SCIENCE:
Compound Rudiments The Blam
AROUND THE WORLD
Indian Clave Building a Bridge Between Two Rhythmic Cultures
THE JOBBING DRUMMER
Popular Play-Alongs Part 5: Rap-Metal
ROCK 'N' JAZZ CLINIC
Latin Rhythms in Pop Music Part 1: Bossa Nova and Samba
CONCEPTS
Be the Driver! 4 Ways to Improve Your Timekeeping
EQUIPMENT
SPOTLIGHT
• LUDWIG USA
PRODUCT CLOSE-UP
• MAPEX MyDentity Drumset
• ISTANBUL MEHMET Horacio "el Negro" Hernandez Cymbals
• LUDWIG Black Beauty, Supraphonic, and Supralite Snare Drums
• LP Americana Cajons
• ROCKNROLLER R10RT Multi-Cart
ELECTRONIC REVIEW
•ROLAND TD-30KV V-Pro Electronic Drumset
GEARING UP
Madonna's BRIAN FRASIER-MOORE
NEW AND NOTABLE
DEPARTMENTS
AN EDITOR'S OVERVIEW 
Taking Care of Business by Billy Amendola
READERS' PLATFORM
ASK A PRO Matt Halpern, Tommy Aldridge
IT'S QUESTIONABLE
• Technology Corner: Getting Centered
SHOWCASE Featuring Drum Market
CRITIQUE
BACKBEATS PASIC 2012
KIT OF THE MONTH For Kids of All Ages
and more!