Liberty DeVitto, Ricky Byrd and friends rock NYC's Cutting Room in an All-Star Line-Up To Present Hurricane Sandy Benefit Concert on Friday, January 25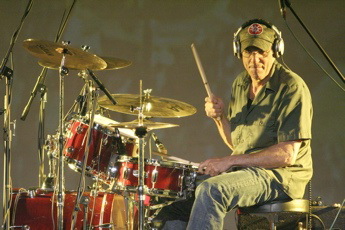 Giving back to his hometown, which was battered by Hurricane Sandy, Ricky Byrd and Rockers In Recovery have united to present an all-star concert aiding those affected by the superstorm. The concert will take place on Friday, January 25 at The Cutting Room in New York City at 8pm.
Two months have passed since Hurricane Sandy devastated the East Coast. Families are still recovering from this tragedy, which is why these members of the music community stepped up to aid the victims. 100% of the ticket sales, merchandise, and auction items will be donated to The Graybeards (a non-profit Rockaway Beach-based organization), West Hamilton Beach Volunteer Fire Department, and The Broad Channel Volunteer Fire Department.
This event will feature the Rockers In Recovery All-Star Band performing with a slew of special guests, including Gary US Bonds, Ian Hunter (Mott The Hoople, Mick Ronson), Michael Des Barres (recording artist/actor), LaLa Brooks (The Crystals), Billy J. Kramer ("Bad To Me"), Gene Cornish (The Rascals), Simon Kirke (Free, Bad Company), Handsome Dick Manitoba (Manitoba, The Dictators, Little Stevens Underground Garage), Ross The Boss (The Dictators), Peppy Castro (Blues Magoos), and Mark Bosch (Ian Hunter Rant Band, Garland Jeffries). Additionally, the night will open with a performance from Queens' own doo-wop kings The Capris (There's A Moon Out Tonight). The evening will be hosted by A&E Private Sessions' Lynn Hoffman and Q104 DJ Ken Dashow. Advertisement
The Rockers In Recovery All-Star Band is Musical Director Ricky Byrd (Lead Guitar/ Vocals – Joan Jett and the Blackhearts, Roger Daltrey, Ian Hunter), Liberty DeVitto (Drums – Billy Joel Band), Richie Supa (Guitar/Vocals – Aerosmith), Kasim Sulton (Bass/Vocals – Utopia), Christine Ohlman (Lead Vocals – SNL Band), and Mark Stein (keys/vocals – Vanilla Fudge).
"I live right in the middle of this disaster, but luckily, I have a house to repair," states Byrd. "Unfortunately, there are many who no longer have a home, and are not being taken care of by insurance. I called some of my rock 'n' roll friends to help raise the roof and raise some money to help those who are less fortunate. We're hoping these funds can help them with much needed repairs."

Adds State Senator Joseph P. Addabbo, Jr.: "As the State Senator representing the Sandy affected areas of Howard Beach, Hamilton Beach, Broad Channel and the Rockaways, I know there are thousands of people who still need assistance months after the storm. I also know their needs will still be there months to come. I have heard so many heartbreaking stories that I will remember forever. That is why I am so grateful to Ricky Byrd and Rockers in Recovery and all the participants of the January 25th event. Your efforts will certainly help my constituents back on their feet from the destruction caused by Sandy."
Rockers In Recovery is a Florida-based organization, founded by John Hollis, dedicated to addiction recovery through music, events, and festivals taking place within a clean and sober community.
The concert begins at 8pm. The Cutting Room is located at 44 East 32nd Street. Tickets are $50 for general admission. VIP meet-and-greet packages are also available for $150. To purchase tickets, please go here.
Advertisement