Daniel Jamal Nazroo of Devour The Martyr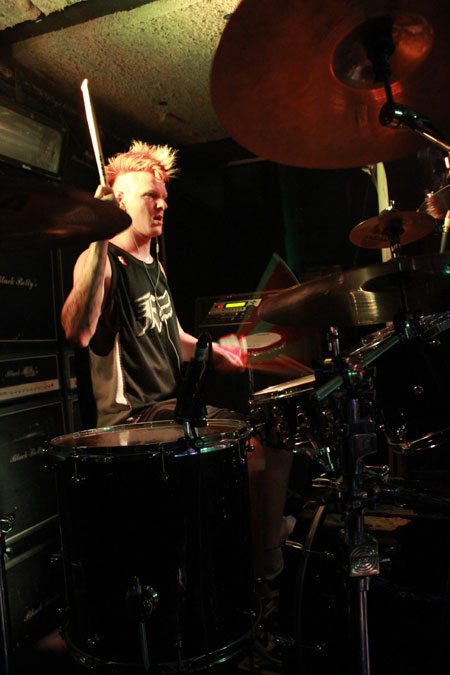 Hello to all you MD readers! My name is Daniel Jamal Nazroo, and I'm the drummer for the Australian metal band Devour the Martyr. During my time in this band I have been able to tour the country and overseas, experience many different cultures, and make some killer new friends. It truly has been an epic ride so far.
I started out playing when I was fourteen and I'm now twenty-one, so I've been playing for approximately seven years. I would come home every day from school and smash my drums. I'm sure I drove my neighbors insane (not that I still don't). When I got older, I put my first band together and by the time I was seventeen, I had already played at just about every venue in Perth. It wasn't until I was twenty, however, that I joined Devour the Martyr, and from then on it's been drums, drums, drums non-stop.
We recently came off an Australian tour in support of Mnemic (Denmark), which was a heap of fun, and an Indonesian tour with Decapitated, which has been my favorite tour so far. The crowds and atmosphere were great, and I definitely want to go back there soon! In February 2013, we head off to tour Japan with Aborted, and after that we should be home to record our debut album. We have an EP out, which you can buy in stores if you live in Australia, or online via iTunes. Advertisement
At the moment, I'm smashing an amazing-sounding custom Brady drumset. The drum sizes are 10″, 12″, 16″ toms and a 22″ kick drum. I'm currently endorsing Seven Drumworks from Phoenix, Arizona, and I'm using my own 7×14 signature snare drum. I use Aquarian heads for the snare and Evan G2s for the toms. I also use Sabian cymbals, Axis pedals, and DW hardware. I'm a tall bastard so I sit fairly high, with my cymbals pretty far away from me. I'm a solid groove drummer, but I also try to incorporate some faster stuff. I'm really pushing myself with Devour the Martyr's new songs, so I'm very specific with how I have my kit set up. I also never change up my kit, whether I'm in the studio or playing live.
I have a pretty intense practice routine. I finish work every day before lunch. Then I come home, and I'll warm up for an hour, just doing rudiments to a click track between stretching and drinking water. After that, I'll chill out for a bit and then smash out the DTM set list, which usually takes me about an hour. I'm looking at about two hours of practice per day, and on jam nights, which happen twice a week, I'll be drumming between three to four hours. Practice makes perfect!
Influence-wise, I'm really digging Mario from Gojira and Chris Adler from Lamb of God. They're both so creative and really amazing players. My goal is to eventually achieve the level they're at, and nothing is going to stop me from getting there. It's just putting your mind to it and never giving up on your dreams! Advertisement
For more on Daniel Jamal Nazroo and Devour The Martyr, visit facebook.com and youtube.com.