JD & The Straight Shot To Perform Benefit To Fight Against Pancreatic Cancer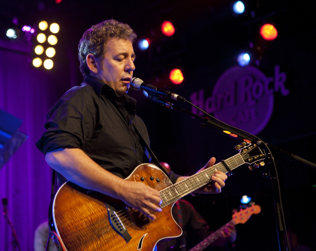 JD & The Straight Shot
To Perform at The 12th Annual Holiday Rock & Roll Bash Benefit
At The Hard Rock in NYC, Thursday, Dec 6th
Event To Benefit The Lustgarten Foundation In Fight Against Pancreatic Cancer
The NYC blues-rock band JD & The Straight Shot will perform at The 12th Annual Holiday Rock & Roll Bash on Thursday, December 6th to benefit The Lustgarten Foundation in the fight against pancreatic cancer. The event will be held at the legendary Hard Rock in Times Square, presented by Cablevision, AMC Networks and The Madison Square Garden Company. Because Cablevision underwrites all of the Foundation's administrative expenses, 100 percent of the funds raised go directly toward pancreatic cancer research to detect the disease earlier, develop better treatments, and ultimately, to find a cure. For more information on the Foundation and the benefit, visit: www.lustgarten.org.
JD & The Straight Shot founder and frontman, James Dolan, formed JD & The Straight Shot with friends from the office. His day job is president and CEO of Cablevision Systems Corporation and executive chairman of The Madison Square Garden Company, Inc. where he oversees New York sports teams such as the Knicks and the Rangers.
Marc Lustgarten, the former vice chairman of Cablevision and chairman of Madison Square Garden, along with the help of Cablevision chairman Charles Dolan and chief executive James Dolan, established The Lustgarten Foundation in 1998 before Marc died from pancreatic cancer the following year. Today, the Foundation that Marc inspired is the nation's largest private foundation dedicated to funding pancreatic cancer research, providing millions to research since its inception. Advertisement
JD & The Straight Shot released their latest album Midnight Run in the summer of 2012. The album is already being called a finely crafted collection of New Orleans-flavored roots music. Midnight Run is the group's second project with esteemed producer Kevin Killen (U2, Peter Gabriel) at New York's Avatar Studios. The group has toured with Joe Walsh, Don Henley and played with The Eagles, Allman Brothers, Robert Randolph, and more. Find out more on JD & The Straight Shot's latest release and upcoming shows, here: www.thestraightshotmusic.com.
The band's nucleus is Dolan, guitarist Marc Copely (B.B. King), and guitarist Adam Levy (Norah Jones, Amos Lee), this trio pens all the band's music and lyrics. Instrumentally indespensible is keyboardist Brian Mitchell (Bob Dylan, Levon Helm) who also adds harmonica and accordion to the sonic stew. Rounding out the band are some of pop music's finest session players, drummer Shawn Pelton (Rod Stewart, Pink, Daryl Hall, Buddy Guy), bassist Zev Katz (Aretha Franklin, Elton John), and violinist Lorenza Ponce (Sheryl Crow, Ben Folds, Bon Jovi).
Check out more on JD & The Straight Shot here:
Official: www.thestraightshotmusic.com
Facebook: www.facebook.com/jdandthestraightshot
YouTube: www.youtube.com/jdstraightshot