The Donating Drummer

On his quest to find ways to use music as a vehicle for giving back to others in the world, percussionist Mark Powers became aware of a waiter in San Francisco who was funding random projects through the tips he made one day each month. Immediately inspired to repurpose and develop this idea, The Donating Drummer was born.
In its first year, The Donating Drummer raised funds for the ASPCA, helped launch a new website, paid off a student loan, and held a pizza party for homeless families that included bucket drumming with the kids. It also provided sailing lessons, bought little girls dance recital costumes, supplied drums to a music therapist, teamed up with a real life superhero crime fighter, picked out Christmas presents for families in need, and much more.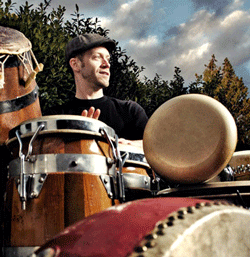 No strings attached and no idea too crazy, Mark's two hopes are that this program will help people accomplish a variety of goals (which something as simple as $100 has, up until now, stood in the way of) and inspire others to use their own life passions to contribute to the world in both small and large ways, both locally and globally. Advertisement
Readers are encouraged to submit their own personal project or goal at TheDonatingDrummer.com, and, once a month, Mark will contribute $100 to $150 from a performance, recording session, or educational workshop to make that goal a reality.
Mark Powers is a percussion artist/educator, currently drumming for The Afrodisiacs and The Spazmatics. He has shared the stage with artists as diverse as Cheap Trick's Rick Nielsen, Devon Evans (of Bob Marley and the Wailers), Rolling Stones saxophonist Tim Ries, Bad Company's Lynn Sorensen, and America's Polka King, the late Frankie Yankovic.
For more information, visit powerspercussion.com.