Adam Savage of While She Sleeps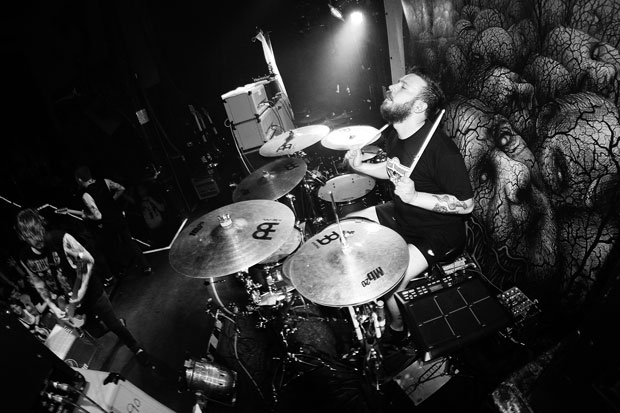 Hey, everyone. My name is Adam Savage, and I play drums in While She Sleeps. We recently toured Europe for a month with Architects, after finishing our U.K. headline touring our first full-length album, This Is the Six. The shows were so wild and the crowds were awesome—definitely my favorite tour so far.
I started to play drums at eleven. I can't really remember the reason for wanting to start, I just knew I wanted to hit things and play drums. I got my first drumkit for Christmas, a brown jazz Sonor kit with a Premier Super Ace snare. First time I have ever been speechless. I had no clue how to set it up, but I had a go anyway. I think I played the same beat for about a year, until I decided to invest in drum lessons at school.
I met Mat Welsh, the guitarist in While She Sleeps, in year seven at school. We both had drum lessons and decided to pair up and drum together. The lessons only lasted about a year. It is coming up to our ten-year anniversary of playing in a band together. We formed a punk band, States of Matter, early on in school. The music was pretty simple and just about having fun playing. Advertisement
After several bands with Mat and Sean Long, the other guitarist in While She Sleeps, our music evolved and got more technical. We knew we wanted to get serious when we formed While She Sleeps. The music got heavier and the drumming got a lot more complex; changing from simple fast punk beats to metal. I bought a double kick pedal without knowing how to play it, but after time and practice I got used to it and now it feels weird playing a single pedal.
I've never really classified myself as a "proper" drummer in terms of learning to read music and theory. I missed a lot of things that would probably benefit me now. So now I want to work back through the basics and learn some techniques I missed out on.
I currently have a new custom drumkit made by Truth: dark walnut satin stain with black chrome rims. Truth has always had solid-sounding kits, and they are a very loyal supporter of me. I use Meinl Byzance cymbals. I love to play big, long-sounding cymbals, and I couldn't ask for anything better than Meinls. I'm very fortunate to be supported by these quality companies who never let me down when I've smashed everything to pieces. Advertisement
I listen to a lot of different styles of music and drummers. One drummer who has been a massive influence is Riley Breckenridge of Thrice. He never is too complex or overplays, and he encouraged me to chill out, be steady, and have a mature approach to my instrument.
I'm very grateful to have the opportunity to do what I love and play drums every day with the best dudes I know. I would advise anyone to pick up an instrument, get some dudes, and play in a band.
For more on Adam Savage and While She Sleeps, go to wssofficial.com. To check out a schematic of Adam's Meinl cymbal setup, click here.  Photo by Tom Welsh/Get Deluxe.