USC Thornton Percussion Ensemble Celebrates John Cage's Centenary
USC Thornton Percussion Ensemble Celebrates John Cage Centenary in a concert featuring his major works for percussion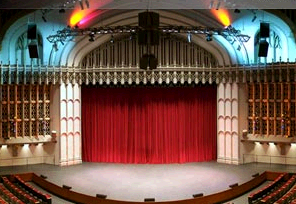 Monday, November 12, 2012 at 7:30PM
Ensemble led by Thornton faculty member and Principal Timpanist of the Los Angeles Philharmonic Joseph Pereira
In the continued celebration of legendary Los Angeles native John Cage's Centenary, the USC Thornton School of Music presents a special concert of Cage's music for percussion ensemble. Los Angeles Philharmonic Principal Timpanist Joseph Pereira, and USC faculty member, leads the ensemble through a concert journey exploring, in Pereira's words, "some of the most important music percussionists have." The concert takes place on Monday, November 12, 2012 at 7:30PM in Alfred Newman Recital Hall on the USC campus.
John Cage was not only a Los Angeles native; he was also a former student at USC in the 1930s studying with composer Arnold Schoenberg. Schoenberg once said of Cage, "Of course he's not a composer, but he's an inventor—of genius." Cage is known for his works using found objects including Living Room Music, which asks performers to find and use objects found in ones living room as instruments.  Pereira states, "For me, Cage's music for percussion captures the essence of what we do because of the indeterminate and found object aspect of dealing with sound. For percussion, it all goes together. For example, no two cymbals are the same and you have to find the right sound and instrument for the proper character of the piece. Cage's music is always about discovering and rediscovering sound."
The program features John Cage's First, Second and Third Constructions, all written between 1939 and 1942, with Joseph Pereira as conductor for First Construction. All scored for unorthodox percussion instruments, these pieces were written while Cage was touring the West Coast with a percussion ensemble he founded with fellow composer Lou Harrison. Other featured works include Living Room Music (1940) one of Cage's most popular works Credo in Us (1942), Imaginary Landscape No. 2 (1942) and But What About the Noise of Crumpling Paper? (1985). Advertisement
When asked about what makes Cage's music so inspiring, Pereira says "the unexpected outcome of what happens with the music and how it can be different every time. The sense of time is different at every performance capturing non-linear time and space." This concert celebration is free and open to the public.
USC Thornton School of Music, Alfred Newman Recital Hall, Los Angeles, CA (located on the USC campus in downtown, L.A.; ample parking is available)
Tickets & Info: 213.740.4672, www.uscticketoffice.com. Tickets are free for this performance.