Logan Baldwin of the Stationary Set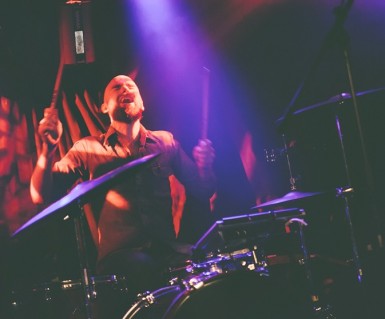 Hello, MD readers! Thanks for stopping by and reading a bit about me. It's a thrill to be in the company of greatness here at the MD blog. Born and raised in the smallest of small towns in central Kentucky, my first "education" in music came from playing in garage bands with neighborhood kids and the occasional battle of the bands, like most thirteen-year-olds. It wasn't until my junior year in high school marching band that I realized the free information I was being given could tremendously help me in the future as a working drummer. I absorbed all that I could and applied it to different aspects of my drumming. My formal education stopped there, and I spent the next five years playing in several original rock bands and some hard-working funk and reggae bands. Although I was logging hundreds of hours behind the kit and sharing the stage with my idols like Fishbone and the Wailers, the ceiling had been hit.
In 2008, I picked up my Kentucky roots and moved to Brooklyn, NY and suddenly found myself surrounded with the world's finest drummers and musicians, and they were accessible. I had no reservations about approaching anyone about the possibility of private lessons or at least just a hang. I was bound and determined to get the education I didn't give myself, and I knew the opportunities for growth were endless within the community. No matter how old, young, established, or unknown, I wanted to learn from anyone who had knowledge to share.
I joined the Stationary Set within a year of moving to New York, and as the influence of Brooklyn began to evolve the band's sound, I gradually started incorporating more electronics into my setup. I was getting exposed to a lot of amazing New York guys, like Zach Danziger, Mark Guiliana, Shawn Pelton, and Jojo Mayer, who were already doing interesting things with electronic music and pushing the envelope with their approach to drumming. When playing and writing with the Stationary Set, I always try to find the perfect balance of tasteful indie-rock and electronic drumming. By no means is the Stationary Set an electro band, but we pepper a lot of the songs with synthetic drum sounds or super-reverbed-out vocal samples that we've programmed in a Roland SPD-S. We've been writing and performing more and more with backing tracks in mind, but we also intentionally leave a lot of the songs free of a click to protect the tension and emotion that tends to come from the Stationary Set's live shows. Advertisement
I do my best to play for the song, not the drummer. Fills are cool. Feel is cooler. I've gained a whole new appreciation for the absence of cymbals. Don't get me wrong; I have my fair share of songs where I'm losing my mind banging on cymbals. But if used sparingly and discriminatively, cymbals can be very powerful tools to emphasize a lyric or introduce a new section of a tune. I have an affectation for broken cymbals, too; they have a trashy, quick resolve but are the perfect blend when used with a nice, washed-out crash or ride.
This has proved to be an exciting year for the Stationary Set and for me as a drummer. We just released our third studio album, Haunt On, and we have a busy fall/spring schedule lined up to support it, as well as a whole batch of exciting new material ready to go. When I'm not busy with the Stationary Set, I have the honor to write, record, and perform with some of the city's most talented and driven singers/songwriters, in fantastic venues throughout Brooklyn and Manhattan. The drummers, musicians, and overall talent that New York City produces provide never-ending inspiration, and I'm thrilled and grateful to be a part of it.
For more on Logan Baldwin and the Stationary Set, go to www.thestationaryset.com and www.loganbaldwin.com. Photo by Peniston Photography.