The Drum Guru App's Rob Wallis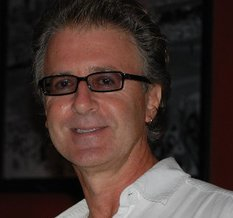 A number of people have asked me, "What is Drum Guru, and how and why did you come up with it"? Drum Guru is the first educational app for drummers. As to how and why it was developed, it all has to do with the portability of content. Let me explain.
My first company, DCI Music Video (and yes, that's me sitting next to Steve Gadd in the Up Close video from 1982), created the educational video drum market. VHS and Beta format tapes were coming into the world marketplace. The "home video revolution" was just starting. Drum clinics and drum festivals were still largely in the future, and it was rare to see artists perform other than in concert settings. But the new technology could give drummers an opportunity to learn at home, and as a drummer myself, I saw it as a way to be inspired by the world's best drummers. So we filmed top artists and made the content available in a format that anyone could learn from while sitting in a practice room or TV room, at a kit or on a lounge chair.
Then came the '90s and the DVD explosion. My second company, Hudson Music, had just been born, and we were the first company to take advantage of the new format to release educational drum content. The DVD format was a much better "carrier" of content because you could instantly access what you wanted (as opposed to a VHS tape, where you had to fast forward and scan the tape until you got to what you wanted to view). Now we had chapters that allowed for instant access. And a DVD could hold over three hours of content at high resolution, compared with ninety minutes on a VHS tape. We now had the ability to store a lot of content with a beautiful-looking picture. (VHS tapes were low resolution and certain colors like "red" seemed to make the image pulsate.) Advertisement
At the time, I could not imagine a better "carrier" for the type of content I produce—until Internet speeds improved enough to allow digital downloading. Now anyone in the world with a decent computer connection had the opportunity to access very high-quality content and save it to a computer.
And then came the mobile app explosion of the past few years. For me it was a very exciting development because now I could create instructional content that people everywhere in the world could watch on their iPads and iPhones (soon to come: other mobile devices). I thought it would be fantastic for a student to have the ability to download a lesson or a teacher to assign a lesson that a student could view at a drumset or on a school bus. So in mid-2010 I began trying to figure out, "How do I build an app"?
I started researching app development companies and quickly learned that good programming was going to require a large financial investment. Equally challenging was finding a company willing to work with video delivery and music notation—the format I envisioned for the app-based lessons. Advertisement
After I spent about a year researching various developers, a friend referred me to a company in South America that seemed to be a good fit. The developers understood the concept I was aiming for, and were excited to take on something different. And so began the process of trying to marry concept to technology.
I wanted to be able to deliver high-quality video along with music notation in a way that was easy to operate. We spent the next six months working through the programming, going back and forth with modifications, until the basic app—available free, with seven sample lessons—was to my liking. On the content end, I assembled a creative and production team from a group that I also work with at Hudson Music: Joe Bergamini, Mike Hoff, and Mike Sorrentino.
I wanted to launch Drum Guru with new, original content. So we started by filming educational content with Joe and Mike S. (both very experienced private teachers), as well as Steve Smith, who happened to be in New York City at the time. After extensive advance organization and preparation, we went into a New York studio for a few days and began filming. Advertisement
Steve came up with ideas for content that he had not yet covered on video, like explaining the drum parts to his well-known Journey songs and his concepts for playing shuffles. And Joe and Mike came up with a curriculum of important grooves and fills for the beginner to intermediate drummer.
For several months I had been speaking with the person I felt had to be involved to launch this new project: Steve Gadd. Steve was integral in the launch of DCI Music Video, and I "insisted" he help me launch Drum Guru. As usual, Steve was traveling the world performing, but he agreed to do some filming the next time he would be in New York City. That was in February 2012, when he was in town to do some recording. With Steve's busy schedule, we were aiming for efficiency, so we planned to shoot right after he had finished an afternoon recording session; in that case, his drums would already be set up and miked, and all we would have to do would be to add cameras and lights.
Even after a long day of recording, Steve again answered every question and demonstrated everything asked of him, and he would not call it quits until he was satisfied with the results. Seeing him "learn" parts of his "Aja" solo, so he could recreate and explain them, was something I will never forget. It is there for everyone to see, in one of his Drum Guru lesson packs. Advertisement
Next I spoke to two drummers I had a long history with: Chad Smith and Mike Portnoy. We were able to find a day when both Mike and Chad were at home (in New York City and New Jersey), and I was able to find a studio midway between them both. We prepared outlines for each of them, then followed them to create a number of lesson packs. After a very long day and a half, we had some great content.
As we edited the video and created the lessons, we turned our attention to the music notation. That proved to be more of a challenge. There were limitations in how large a file we could expect the devices to handle, and tradeoffs had to be made in terms of the video quality vs. the audio files and music notation. Once the video editing was completed and the audio was mixed and mastered, we started "dropping" it into our template, and from there spent a few months tweaking the way it looked and the way the interface handled. My goal was to keep it very simple for the user, yet provide sophisticated capabilities, like the ability to slow down the video, play back the audio at several speeds, loop the audio playback, and include additional commentary from the artists.
Finally, early in the spring of 2012, almost two years after starting the process, we submitted the Drum Guru App, along with the free "sample pack," to Apple for its approval and inclusion in its App Store. This took several weeks. But then, after getting that long-awaited thumbs up, we decided to hold back the app until we could also have available some of the lesson packs. That process took another two months, mostly because we had to satisfy Apple's specifications for restoring a pack if it was deleted after it had been purchased. The wait was nerve-wracking, to say the least. Finally, in early September 2012, we were ready to launch. Advertisement
But wait, there's more: A week after our launch, Apple released its iOS6 operating system, and we found out we had to make programming changes to all of the In-App packs and resubmit them to Apple for its approval. We also included a few additional upgrades. As of this writing, I am awaiting Apple's approval so we can service iOS6 users. So the journey continues.
We were recently back in the studio filming more new lessons, with different styles and artists, and have plans for additional shoots in the near future. I have many more ideas, and remain excited about the possibilities of where Drum Guru can go.
Please check us out using your iPhone or iPad. Search the App Store for Drum Guru, or use this link to our preview page.
Thank you for your support all of these years. Most importantly, good luck with your drumming—and have fun!