David Halicky of The Vim Dicta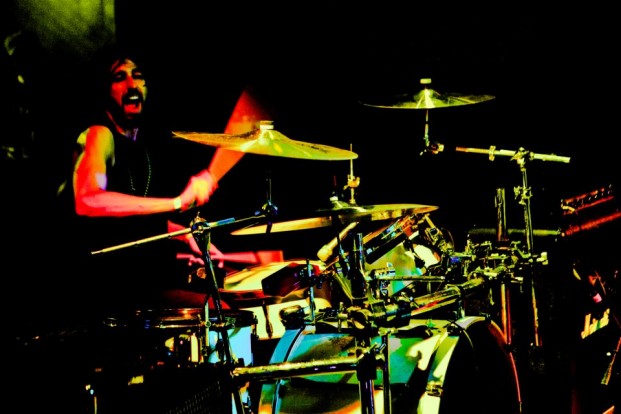 Hey Modern Drummer people! I'm David Halicky. Through drumming I can truly express who I am and how I'm feeling. I'm able to communicate more truthfully and openly through drums and music than talking or writing. As music is the universal language, playing drums is my dialog and response to life.
I've been drumming for sixteen-plus years. Fortunate to have music-loving parents, at five I was putting together makeshift drumkits out of pots, buckets, and whatever else I could bang on using my K'Nex as drumsticks. When I was six, I asked my mom for a drumset. So she signed me up for piano lessons. I enjoyed piano for the next two years when, at age eight, I approached my mom again about a drumset. This time she bought me a trumpet. I really enjoyed that too, but at the age of ten, thanks to my papa, a jazz drummer for over seventy years, my mom finally bought me a 1960 Ludwig kit. At last I was banging away on the skins, getting lessons from my papa until age thirteen, when I formed the first of many bands. After two years of community college, I dropped out to record an album and go on tour with the band Peachcake. We played SXSW (2005 and 2006) and the Warped Tour across Arizona (2006), plus opening slots for ZZ Top, Jimmy Eat World, My Chemical Romance, Fergie, Gin Blossoms, Puddle of Mudd, and Meat Puppets.
In 2011, I joined the exciting, emerging band The Vim Dicta. We're an intense, energized rock trio based in LA. Our "psycho groove" style has been building buzz and attracting some serious attention, and it is here that I can really apply my style of blending in while accentuating the music as a whole. Rather than mostly playing straight time, here I can really make each drum, cymbal, and stroke mean something that makes an identifiable difference in the groove or direction of each individual piece. I like to play a lot of fills and really use the best of the kit. In early 2012, I was coached by the incredible touring and session drummer Jimmy Paxson (Stevie Nicks, Stanley Clarke, Alanis Morissette), who's well known for precision and creative styling. He really helped improve my grip, particularly my left hand, which gave me more control and power over cymbal flourishes and jungle tom grooves, which bring identifiable textures to our material. Advertisement
My early drumming influences were Mitch Mitchell, Keith Moon, and Buddy Rich. More recently, I'm mostly influenced by Rufus Jones, Joe Russo, and Jon Fishman.
My hope for the future is to keep my spirit of inspiration alive through music to bring all kinds of people together. Playing drums is how I communicate this feeling with the world, and I thank MD for giving me the chance to share my love of the drums with all of you!
For more on David Halicky and The Vim Dicta, go to www.thevimdicta.com.
Photo by Angus Jones.