Musicians Come To "The Sessions" July 14 At Summer NAMM 2012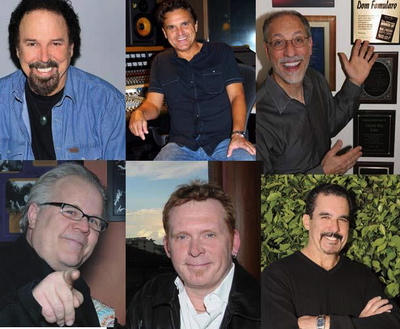 (Pictured above, top to bottom, left to right) The music panel experts for The Sessions at Summer NAMM 2012 includes:  Eddie Bayers, Jr. (session drummer), Harry McCarthy (drum tech, owner Drum Paradise), Dom Famularo (The drumming world's global ambassador), Joe Hibbs (Mapex artist relations/product development manager), Paul Quin (entertainment and litigation lawyer), and Carlos Guzman (production manager).
Your Path To Success In The Music Industry
What Is The Sessions?
The Sessions is a powerful and uplifting presentation where artists will sharpen their business skills in the pursuit of excellence. The Sessions includes an expert music industry panel which addresses contract negotiations, entertainment law, marketing, self promotion, image maintenance, and performance fundamentals.
Where, When & How Much?
The Sessions will be at Summer NAMM in Nashville Idea Center, Booth 837, on Saturday July 14 from 11:00-2:00 offering an educational introduction of necessary and helpful information to be successful in the music industry. Saturday is open to the public day. Buy a ticket for $15 and enjoy the Namm show and see The Sessions for FREE. This is an excellent opportunity to sharpen your business skills in the music industry. Advertisement
Saturday is the Public Day at Summer NAMM at the Nashville Convention Center, 601 Commerce St., Nashville, TN. Visit www.namm.org/summer/2012.