Toca Origins Series Djembes and Custom Deluxe Drumset Timbale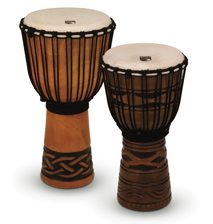 Origin series djembe shells are carved from a single piece of environmentally friendly, plantation-grown mahogany and are turned by lathe to maintain uniform thickness. The interior of the bowl features lathed grooves and a rough-surfaced pattern to help eliminate overtones. The drums' bearing edges are hand carved to precise specifications. Origin djembes have natural goatskin heads and come in 12×7, 16×8, 20×10, and 24×12 sizes. Two traditional hand-carved designs are available: a classic African mask motif and an intricate Celtic knot pattern.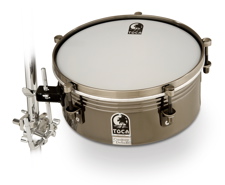 Toca's Custom Deluxe drumset timbale is 5 1/2″ deep and 12″ in diameter, a convenient size for kit players to incorporate into their setup. The steel shell, which is great for cascara playing, has a black mirror-chrome finish accented with brushed-nickel hardware. The drum has five tuning lugs and comes with a tuning wrench. It includes a mounting bracket that accepts any standard 3/8″ rod. List price: $129.