Ringo Starr Art Exhibits To Show At Select Cities On 13th All Starr Tour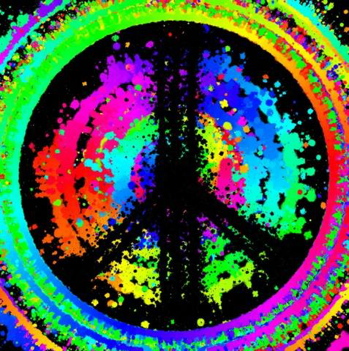 Ringo Starr is hitting the road this summer with his 13th All Starr Band, including Steve Lukather (Toto), Richard Page (Mr. Mister), Mark Rivera, Gregg Rolie (Santana), Todd Rundgren, and Gregg Bissonette. In addition, a collection of his art, composed by Starr electronically will make companion stops at galleries in select cities, launching alongside the Fallsview Casino at Liss Gallery of Toronto. He will also be returning to Soho's Pop International Galleries in New York City, which is the gallery that held the first ever exhibition of his work on June 19, 2005.
Ringo began composing art on his computer in the late 90's while on tour. "I love modern media, it is the way I do my art," Starr said. "This year has been great. I designed something for Knot Violence: Imagine World Peace, and to support another great charity, WaterAid, I did a design for Timberland boots, and opened up this year's Chelsea Garden show. And now we are doing Peace signs and as always, all my proceeds go to support the Lotus Foundation, the charity Barbara and I set up." Ringo also did an original design for the Hard Rock Signature Series T Shirt, which benefitted both the Lotus Foundation and Make A Wish. The Hard Rock have been very supportive and will feature select images of his work in their café's during the tour, including the new series of Peace Signs, all depicted in his bright and colorful palette. The Peace signs are a fitting image for Ringo, who will celebrate his birthday with the now traditional moment of "Peace & Love". This July 7th will see Starr with a crowd outside the Hard Rock in Nashville, Tennessee, encouraging everyone everywhere to join by saying, thinking or doing Peace & Love at noon, your time.
As Ringo said, all of his proceeds will go to benefit the Lotus US Foundation Charity. The objectives of the Foundation are to fund, support, participate in and promote charitable projects aimed at advancing social welfare in diverse areas including, but not limited to: substance abuse, cerebral palsy, brain tumors, cancer, battered women and their children, the homeless and animals in need. Advertisement
More information is available at www.ringostarr.com, www.RingoStarrArt.com, www.Artcelebs.com and Lotus Foundation Charity.