Rock The Rhythm, Beat The Odds Event
Mickey Hart of The Grateful Dead Leads "Rock the Rhythm, Beat the Odds," a Celebration of Music Education
The Drumming is Coming! Nearly 10,000 people expected to join
record-breaking music event on May 18th at the COC-Valencia Cougar Stadium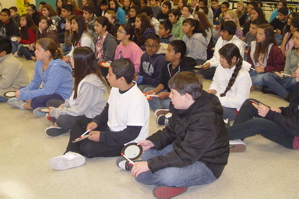 "Rock the Rhythm, Beat the Odds" www.rocktherhythm.org is set to gather nearly 10,000 students and community members in a collaborative, music-making world record attempt on May 18, 2012. Mickey Hart of The Grateful Dead will lead the gathering's drum session in support of music education at COC-Valencia's Cougar Stadium.
On May 18th, the community including 7,600 middle school students from Santa Clarita Valley will join together for a simultaneous rhythm. Joining Hart on stage will be John Densmore of The Doors, Jessica Simpson's drummer Gorden Campbell, Bruno Mars' drummer Eric Hernandez, Janelle Monae's drummer Mike Phillips, Poison's Rikki Rockett, and Teddy Campbell, the drummer from Jay Leno's Tonight Show. The group will shine a national spotlight on a community-partnering model that supports sustainable art programs in schools. Each sixth and seventh grader in the Santa Clarita Valley receives instruction that helps maximize his or her creative expression, build social and emotional skills, and emphasize the process of learning over performance. Advertisement
For more information about the Rock the Rhythm, Beat the Odds initiative or to find how to participate, please visit www.rocktherhythm.org. You can also visit Rock the Rhythm on Facebook, www.facebook.com/RTRBTO, and follow the process on Twitter, twitter.com/RTRBTO.