New Gear For 2012! Highlights From Winter NAMM (S–Z)
by Billy Brennan
Here are some of the coolest new products coming down the pipeline for 2012, all of which were on display at the annual Winter NAMM Show in Anaheim, California, this past January.
Sabian
Sabian displayed each of the twelve models in its Players' Choice program, including the Final Four winners: the HHX Zen China, with an inverted bell and higher shape; the AAX Stadium ride, which is a medium-heavy model between a Stage and a Rock ride and has an unlathed bell; the perforated AAX Aero crash; and the HHX Click Hats, which are fully lathed on the bottom of the cymbals and partially lathed on the tops for more control and click. The hi-hats have an AA shape for higher pitch but HHX hammering for articulation.
Sabian also introduced a 17″ Holy China and 16″ and 18″ O-Zone crashes to the B8 Pro line.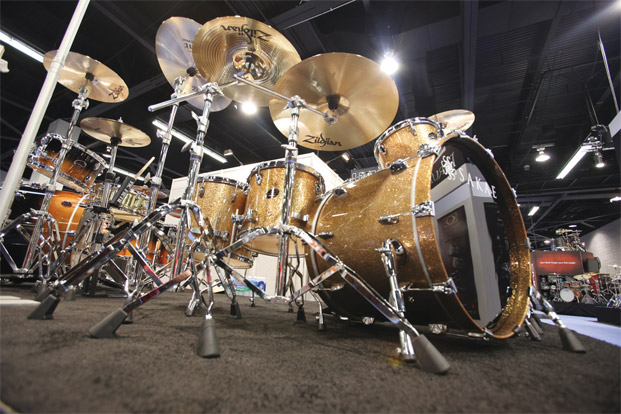 Sakae Drums
The Almighty kit has 6-ply North American maple shells made completely in Sakae's Japanese factory. The Road Anew is a compact kit with adjustable ball-end tom holders.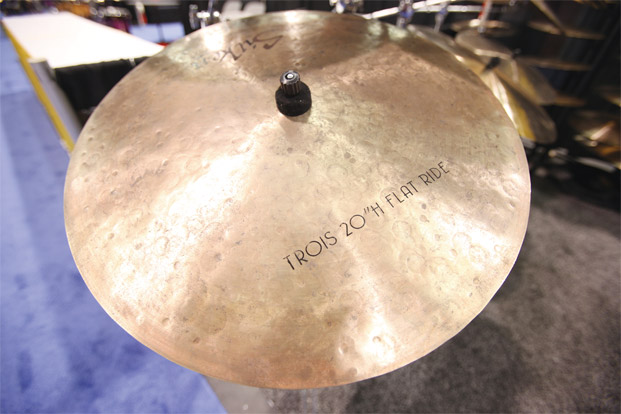 Silken
Here's a dry-sounding Trois flat ride from Asian company Silken cymbals.
SJC Drums
High-end custom drums from SJC include everything from classy wood-finish kits to hybrid metal/wood snares to a crazy snare-within-a-snare concept drum.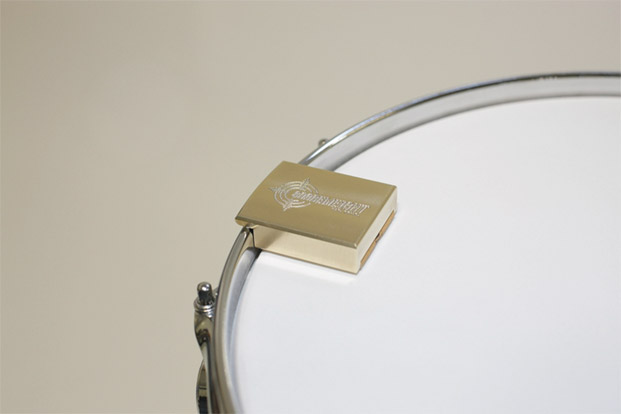 Snare Weight
This heavy-brass muffling device is held in place by connecting to steel hoops via a strong magnet.
Sonor
The Prolite series is replacing the Delite and S Classix and is now the only Sonor series made in Germany. Prolite features the same vintage maple shells that were used for Delite drums. A new tom mounting system loads on four points, rather than drilling into the shells, for a more open, warmer sound.
Sonor is also releasing two U.S.-only products: the three-piece Arena maple shell pack (13″ and 16″ toms and a 24″ kick) made out of Canadian maple, and the Session maple, with a 22″ bass drum and 12″ and 16″ toms. Advertisement
The new Mikkey Dee signature snare is a 7 1/4×14 birch drum and features a Motörhead wrap design by Mark DeVito. Sonor also reintroduced the classic Phonic beech snares, in 5 3/4×14 and 6 1/2×14 sizes.
Soultone
Soultone now offers custom etching on all of its cymbals, and the company introduced the new Vintage Old School 1964 series, which is based on the cymbal sounds that jazz legend Tony Williams used on the classic Miles Davis recording Four & More.
Stagg
Stagg completely revamped its cymbal line to include partially lathed BM models and these crusty-looking VB hi-hats.
Stavetone Drum Hoops
These unique hoops are designed to retrofit any brand of drum.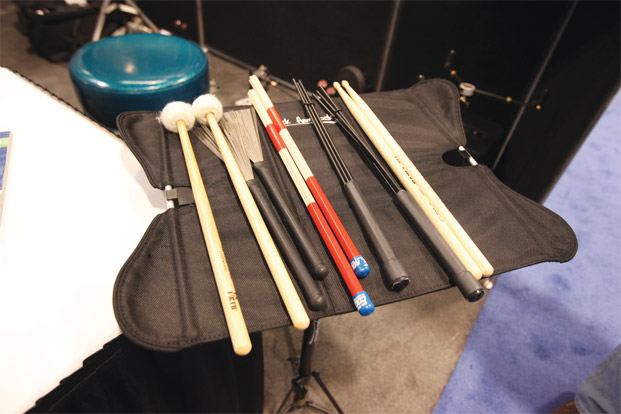 Stick Hammock
Tour drummer Steve DiStanislao invented this portable/collapsible stick holder to help make quick stick and mallet changes easier to execute.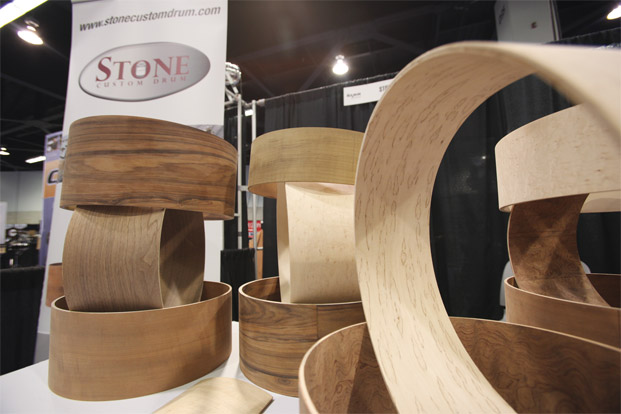 Stone Custom Drum
Stone Custom Drum makes exotic and standard shells using Slingerland's original tools.
SuperDrum
SuperDrum 12-lug snares are now offered with wood hoops, and they come in deeper sizes, like the 8×14 model shown here.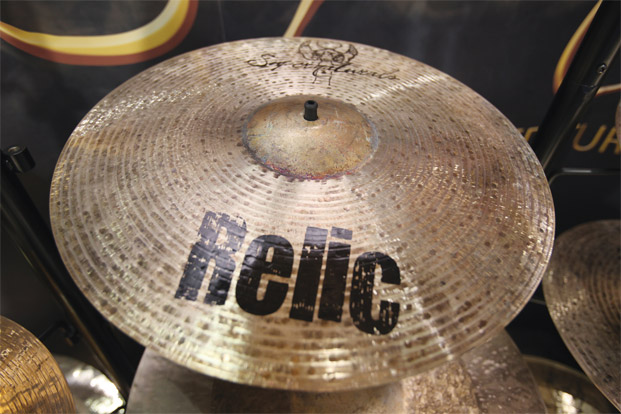 Supernatural Cymbals
New models from Supernatural include the vintage-style Retro Sizzler ride, Monster Mini hi-hats, Zen Rock Ice Bells, and the raw Relic series shown here.
Tama
Tama's Sound Lab Project snare line consists of eight drums: an 8-ply Classic Maple with brass tube lugs for jazz and blues; a 9-ply Power Maple with brass tube lugs for rock and hard rock; a 12-ply G-Bubinga for all-around playing; a 13-ply, 13″ G-Maple for gospel, hip-hop, funk, and pop-punk; a Vintage Steel with brass tube lugs for rock, jazz, and pop; a 13″ Sonic Steel for hip-hop, R&B, reggae, and punk; a Super Aluminum for jazz, funk, Latin, and fusion; and a Black Brass for heavy metal, hard rock, and prog. Advertisement
New additions to the Starphonic line include a 6×14 bell brass; a 6×14, 1 mm titanium with Resonant Sound Edge (R.S.E.); a 6×14, 1 mm stainless steel with R.S.E.; and a 6×14, 1mm black-nickel-plated steel model.
Silverstar Limited Edition kits are birch-shell drums with an outer ply of tamo ash. The Starclassic Select has a 100 percent walnut shell for a distinctively bright and resonant tone.
Taye Drums
Taye introduced the ParaSonic hybrid-shell kit, where the smaller drums use predominantly birch with a little bit of maple, while the floor toms are maple and feature thinner shells for longer sustain and deeper tones. ParaSonic bass drums consist of the same thin shells as the floor toms, but with sound rings for added focus. The series comes in three colors—vintage goldtop, dark ocean burst, and walnut burst. Taye also had on display a variety of snares, including the stainless-steel and maple wood-hoop models shown here.
3rd Hand Percussion
This unusual contraption, which attaches to a hi-hat stand, allows you to play drums and percussion instruments with your foot.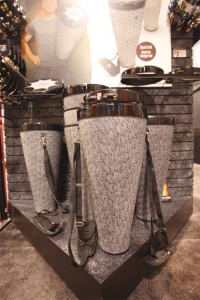 Toca Percussion
The Flex Drum is a stackable model designed for drum circles and communal events. It's 23″ tall and features a pre-tuned 11″ head that can double as a frame drum.
Trick Percussion
In addition to displaying its signature metal snares, Trick featured the Dominator double pedal, Speed Riser footboard attachments, the SB1 Detonator trigger system, and a new remote hi-hat design. Advertisement
Truth
The Matt Greiner signature drumkit provides high-end custom features at a production-level cost. Truth also displayed a cool hybrid-shell drumkit and a range of custom snare drum designs.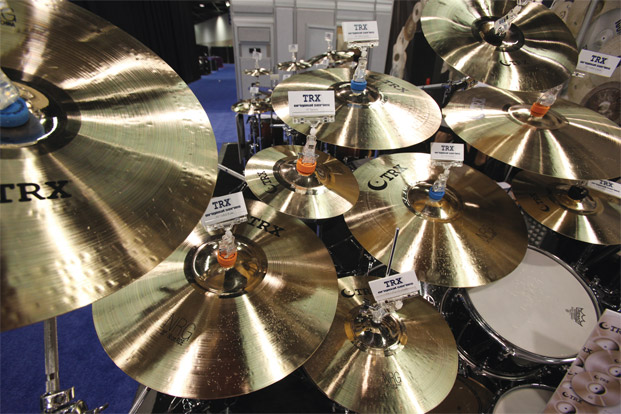 TRX Cymbals
The new Dark Icon series includes extra-thin cymbals with unlathed, heavily hammered tops and fully lathed bottoms. The line also features pre-drilled holes for attaching removable rivets. NRG cymbals (shown) are designed for hard-hitting applications but have a warm, open sound and playable feel.
The company also introduced the Digital Cymbal Studio pack, which offers high-end samples of nearly a hundred cymbal sounds from the Original and Icon series.
Turkish Cymbals
Turkish Cymbals introduced the new Rhythm & Soul series, which is aimed at jazz, funk, and fusion drummers. The rides have a short sustain with a warm bell sound, the crashes have nice response and cut, and the hi-hats are smooth- and clean-sounding with a dark tone.
2box
2box now offers drum triggers in addition to open-platform, mesh-head electronic drumkits that allow users to upload their own sounds.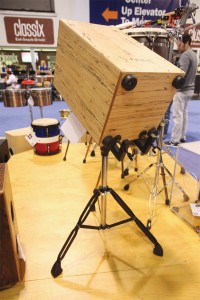 Tycoon Percussion
Tycoon's cajon stand can accommodate multiple sizes of cajon.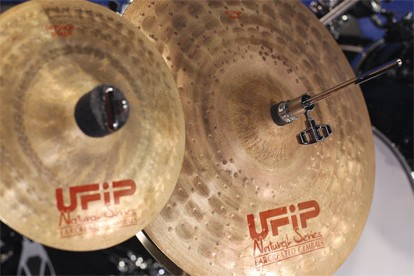 UFIP
UFIP's Brilliant series is being discontinued, but the Class series is incorporating models with a brilliant finish. These cymbals are lighter and larger than the Brilliant series. UFIP has also lightened the crashes and rides in its Natural (shown) and Bionic series. Advertisement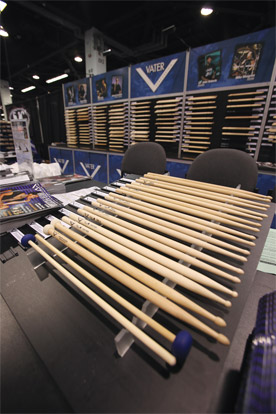 Vater
The Fusion Acorn has the same design as Vater's Fusion stick, but with an acorn-shaped tip instead of a ball. Both Fusion-model sticks have also been incorporated into the company's Sizzle Mallet line. The Sugar Maple Phat Ride allows for a softer, lighter feel than its hickory counterpart, and the BeBop is a new series available in hickory and maple that provides a slimmer grip suited for lower-volume settings.
Vater's StickMate tambourine and shakers attach directly to drumsticks for additional sound effects while playing.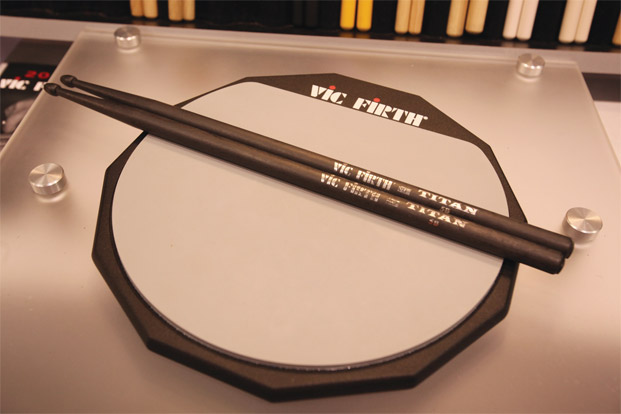 Vic Firth
The Titan series comprises Vic Firth's aerospace-grade carbon-fiber drumsticks. These sticks have the extreme durability of carbon fiber, with the feel of a wood stick and the cymbal sound of a nylon-tip model. The Titan series is available in 5A and 5B.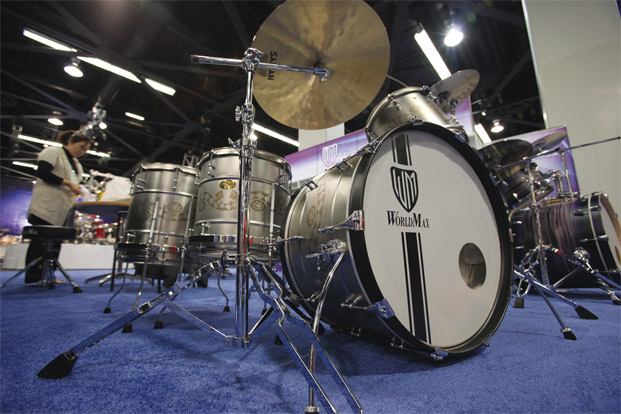 WorldMax
The Asian manufacturer WorldMax brought out a cool-looking metal-shell drumkit.
Yamaha Drums
The Club Custom is now available in two finishes previously limited to outside the United States: darkwood and blackwood. Stage Custom Birch drums are now available in matte black and honey amber, and the Recording Custom line has added deep blue and antique sunburst. Advertisement
The new HexRack II hardware system is 30 percent lighter and stronger than its predecessor. All HexRack II clamps will work with the older version as well.
Zildjian
K Constantinople additions include 15″ and 17″ crashes and a 19″ crash-ride. The 16″ and 18″ crashes have been redesigned to have a new lathing pattern that's reminiscent of the company's lathing in the '50s and '60s. Zildjian also changed the bells to have a more vintage cup style.
The 20″ Bounce ride was developed after consumer response to the 22″ version. The smaller ride has the same cup and cluster hammer marks as the 22″.
Japanese drummer Akira Jimbo wanted an effects cymbal other than a China to add to the Hybrid series, and the end result is the 19″ Hybrid Trash Smash. This new addition has an inverted volcano-cup bell and is medium-thin in weight, with extra hammering to enhance the white-noise trashiness.
Other additions include a medium-thin 21″ A Custom Anniversary ride, 13″ Pocket hi-hats, 21″ and 22″ K Custom Dark Complex rides (which have dry, trashy, funky, voices), and a 22″ K Constantinople Renaissance ride made with jazz great Adam Nussbaum. Advertisement